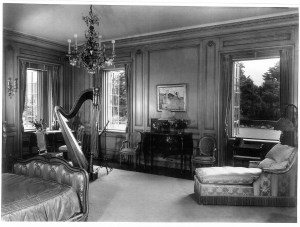 Much to the bitter disappointment of real estate looky-loos, when Huguette's Clark's three apartments at 907 Fifth Avenue were listed in the spring of 2012, they were as mysterious as the late copper heiress herself. Photos were limited to the property's Central Park views, the intrigue of their interiors only heightened by teasers like "Butterfield 8—the exchange number found on the old dial telephone—sets the tone for what this apartment represents." (Photos of the apartments' interiors were later published by Bill Dedman, the author of Empty Mansions.)
And now, in the lead-up to an auction next Tuesday of Ms. Clark's many gilded possessions, Christie's has put together a video tour of several rooms in the heiress's Santa Barbara estate, Bellosguardo, also spotted by Mr. Dedman. (The estate itself will not be auctioned, but will become the home of the Bellosguardo Foundation, an arts non-profit created in Ms. Clark's will.)
The estate, once a favorite escape of Ms. Clark and her mother Anna, who commissioned it, was last visited by the copper heiress—who avoided the property after the death of her mother—in 1953. She did, however, oversee its meticulous maintenance, requiring staff to keep the home ready for her arrival with 48 hours notice and to make a note of any object that was moved.
As the Christie's guide intones: "it's like stepping back to a time when Eisenhower was president of the United States."
Well, not really. Given the classic stylings of the mansion, it's more post World War I than post World War II. But it looks, at least in the staged rooms we see glimpses of, impressively preserved in its rather grand fashion. In an interesting aside, paneling in several of the California home's rooms was lifted from the Clarks' Upper East Side mansion, which was demolished not long after it was completed, being so opulent that no one wanted to buy it after the copper king's death.
[protected-iframe id="54c78aacfbd7c9d7a2e6500a0e67a731-35584880-35163663″ info="http://c205892.r92.cf1.rackcdn.com/cmm.swf" width="720″ height="405″]
Mr. Dedman writes that the auction will include Ms. Clark's paintings, furniture and musical instruments, including a Stradivarius that is expected to sell for between $7.5 million and $10 million. Proceeds of the auction will go to the Bellosguardo Foundation, which is also getting the heiress's very impressive doll collection. Viewings of the auction items will be held in New York on Saturday through Tuesday and include 19 paintings that Ms. Clark made herself.