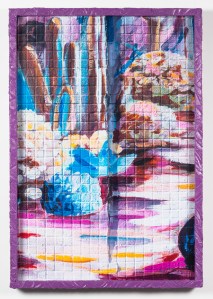 One very humid afternoon last week, the New York-based artist Chris Wiley was inside the Nicelle Beauchene gallery on the Lower East Side discussing Los Angeles, where he's spent a fair amount of time recently. "L.A. is a city that is never meant to be seen on foot and never meant to be looked at very closely," Mr. Wiley told me. For his second show at the gallery, though, he did just that, roaming the City of Angels far and wide, away from well-trafficked, recognizable landmarks, with his camera.
His exhibition, "Dingbats," includes 15 of the photographs he ended up snapping. They're all about four feet tall, and depict close-up details of L.A. architecture, from lush murals in Venice Beach to rotting buildings with cracks the size of bowling balls. The works radiate colors that abound in the City of Angels—Schiaparelli pinks, ocean greens and the reds found on the lips of femme fatales.

The show takes its titles from dingbat buildings, the inexpensive, shoebox-style dwellings that flourished throughout Southern California in the middle of the century—basically stuccoed boxes with legs. (That name comes from the star-shaped ornaments, found on many of the buildings' facades, that are reminiscent of dingbat forms used in typesetting.) "On one hand you think, Jesus, this [architecture] is so awful," said Mr. Wiley. "But at the same time, it's so incredibly compelling and fun and full of life."
He walked over to Dingbat (6) (2014), the photo that was the genesis of his show. It shows a wood wall painted a brilliant aqua with a skinny pipe of the same color dangling limply, looking forlorn. One night, Mr. Wiley explained, he had been tossing around in bed, brooding over the photograph, when he wondered what would happen if he put it in an unfittingly cheerful frame. It ended up encased in hot pink stucco. Other images sport frames of corrugated steel and pink faux alligator skin. They capture the essence of L.A. for him: beauty amidst the tackiness.
Mr. Wiley has become a connoisseur of such flat, vaguely synthetic-looking scenes. It requires patience, like birdwatching or mushroom foraging. He picks a neighborhood, drives there and then spends hours seeing what catches his eye. "In some ways I'm working in such brutal constraints—always shooting flat surfaces, outdoors in broad daylight—but within those constraints there's an infinite variety of things I can do," Mr. Wiley said.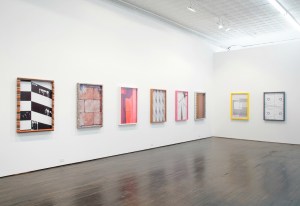 His works toys with accepted aesthetic codes, brushing aside rigid notions of good and bad. "There is a friction that is created when these materials that some might say shouldn't be here or aren't in good taste are presented as being in good taste," said Mr. Wiley. He's showing snippets of the world that rarely make it into galleries, which has caused some people to view him as an artist who photographs things that people often overlook, though he thinks that phrasing puts it too simply—there's more going on his combinations of image and frame.
As Mr. Wiley eyed a frame covered in Wild West-inspired fabric with drawings of cowboys, clouds and cacti, he told me that he hopes people can see the humor in his work. The cowboys, he said, could be seen as a metaphor for Los Angeles as the end of the American frontier. Then again, he said, laughing, "It's just so crazy looking."