If there was ever any doubt that Adriano Espaillat was voting for Adriano Espaillat, it was put to rest today.
Mr. Espaillat, a Democratic state senator aggressively trying to unseat Congressman Charlie Rangel, cast a vote for himself today in the upper reaches of Manhattan and showed his ballot to the press.
"It's something that I always do. I want everyone to know I voted for myself," Mr. Espaillat told the Observer.
Meeting a horde of reporters, Mr. Espaillat voted at PS 98 in Inwood. His mother, who was featured in a Spanish-language campaign ad, accompanied him to the polls, along with his son and grandson.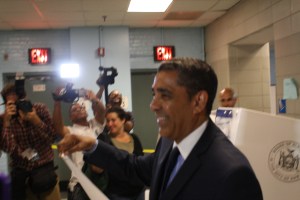 Poll workers pleaded with reporters to clear a path for Mr. Espaillat's mother and the few other voters who had arrived to cast their ballots. After Mr. Espaillat ambled past reporters and flashing cameras to vote, he smiled and held up his ballot. Typically, elected officials do not reveal their ballots to the public.
Turnout at polling sights in Inwood, part of Mr. Espaillat's base, appeared light as forecasted. A handful of people trundled through the school to vote; literature from Mr. Espaillat's campaign was strewn on the ground on the main thoroughfares of Inwood. Campaign workers buzzed up and down the street to pull residents to the polls.
But the race, the only contest on the ballot in the district today, has been high profile and vitriolic despite the relative lack of local interest. Mr. Rangel, 84, is fending off a second challenge from Mr. Espaillat, who nearly unseated him two years ago.
The top two contenders, along with Pastor Mike Walrond and Bronx activist Yolanda Garcia, are competing for turf that spans upper Manhattan and the Bronx. Mr. Espaillat is counting on higher turnout from heavily Latino areas in the district to vault him past Mr. Rangel, who has been in office more than 40 years.
Mr. Espaillat, as always, all-but-guaranteed a victory tonight.
"I believe this election will reshape New York City and New York State politics, if not the nation," Mr. Espaillat said, addressing the media. "I'm an immigrant myself. I came to this country with no paper and now look at all of you, you're covering this race for me to become a member of Congress."
"Nothing against the congressman, I have great respect for him but he is part of the past and we are part of the future," he added. "I believe very strongly we'll win tonight–we will win by a comfortable margin."