For Peter Morales, a New Jersey-based airplane mechanic, it was shaping up to be an average Wednesday. Take his son to a dentist appointment in the morning. Attend his daughter's elementary school graduation in the evening. And in between his fatherly duties, indulge in one of his favorite pastimes: taking his boat out on the water.
While off the coast of Sandy Hook, trolling for fish and sipping Coors Light, Mr. Morales came across something (better yet, someone) unusual. "It completely took me off my feet," said Mr. Morales. It looked like a kayak from outer space, complete with a capsule-shaped hull, numerous weather monitors and other electronic doodads. South African adventurers Riaan Manser and Vasti Geldenhuys, who were on their way to New York City to become the first-ever unassisted duo to paddle the 6,500 miles from Africa to America, were the fatigued pilots of the futuristic vessel.
"I felt like I should offer them something," said Mr. Morales. "I gave them what I had—a couple Coors Lights, a couple waters and a half a bag of ice."
Grateful for the gifts (Mr. Manser and Ms. Geldenhuys hadn't seen ice in months), the weathered adventurers slipped Mr. Morales their card and told him to meet them near Liberty Island in a few days for the grand finish of their 133-day journey.
Fast-forward to Friday. Mr. Morales showed up at Manhattan's 79th Street Boat Basin, joining the NYC Parks Department and legions of press with their bulky cameras to welcome his new friends to the finish line of their record-breaking voyage. In fact, so many eager media folk showed up that Mr. Morales was happy to host a few on his boat, shuttling them out to the finish line under the shadow of Lady Liberty.
The sun was out, providing a perfect setting for the celebration. While awaiting the arrival of the transatlantic travelers, the throngs of press had plenty of time to generate entertainment. A South African television host asked: "I wonder if they had sex?" Investigating the logistics of challenging on-board feats such as this passed the time along with consoling (and gawking at) our seasick shipmates.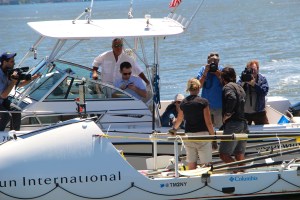 Finally, just before 2 p.m., Mr. Manser and Ms. Geldenhuys came into view. Two NYC Parks Department boats strung a makeshift finish line between their hulls to ring in the triumphant finale. After crossing, Ms. Geldenhuys burst into tears of joy while Mr. Manser embraced her in his grisly arms. The couple kissed with the Manhattan skyline and the Statue of Liberty in the background, and the four or five press boats jockeyed for an angle on the passionate money-shot.
Back in December 2013, the couple set off from the Moroccan coast on their 23-foot long kayak, "The Spirit of Madiba," named after the late Nelson Mandela. For Mr. Manser–a world-renowned adventurer known for being the first to circumnavigate the African continent by bicycle and also the first to kayak around Madagascar–this adventure was unique. Normally he travels alone. This time, however, he brought along his longtime girlfriend, Ms. Geldenhuys, who is now the first woman from Africa to row across any ocean.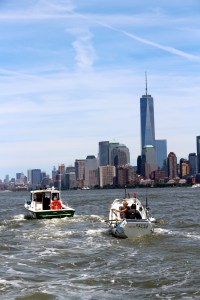 After a short celebration at sea, the couple was towed back to the 79th Street Boat Basin where more press and revelry awaited. "Our behinds are very, very sore," announced Mr. Manser in a thick South African accent before setting foot on dock. "Yes, we've had enough of the ocean," added Ms. Geldenhuys.
The press swarmed the couple as they posed under a massive South African flag and took questions. Mr. Morales, on the other hand, hung back to allow his new friends a moment of much-needed repose.
He had more Coors Lights sitting in his boat, but there was no rush.
"We went one step further than Christopher Columbus," boasted Mr. Manser. "That guy stopped in San Salvador and we went all the way to New York!"