Ken Thompson became the first candidate in decades to topple a sitting district attorney in New York City. His prize, upon taking office this year, was a room of shredded documents.
On the first day of the new year, Mr. Thompson entered the 350 Jay Street headquarters of his predecessor, Brooklyn District Attorney Charles Hynes. Mr. Thompson, a Democrat, walked into a large conference room and saw at least a dozen trash bags stuffed with documents accumulated from the 24 years Mr. Hynes, also a Democrat, served as district attorney, sources with direct knowledge of that morning recall.
"It was absolute chaos," a source close to Mr. Thompson who spoke on the condition of anonymity told the Observer. "There were literally bags of shredded documents everywhere. Contents unknown. Hynes and his henchmen just arbitrarily shredded documents."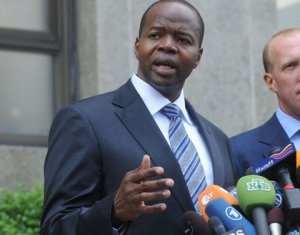 "Hynes basically did everything he could to make Ken Thompson's life a living hell," the source added.
A spokeswoman for Mr. Thompson said the district attorney had no comment. Mr. Hynes could not be reached for comment.
The revelation of Mr. Hynes' document shredding–it's not clear what documents in fact were shredded, only that countless papers were gone in the highly unusual move–comes as possible criminal actions on the part of Mr. Hynes begin to emerge. A Department of Investigation probe revealed last week that Mr. Hynes may have used public funds to pay a consultant more than $200,000 and found that Mr. Hynes may have also been illegally using office resources to help coordinate his failed re-election bid.
Attorney General Eric Schneiderman is looking into possible criminal charges against Mr. Hynes, the Daily News reported Monday.
The initial fear in Mr. Thompson's office, one that has persisted, is that the district attorney does not know exactly what was lost. The documents were likely case files, sources say, and could end up being pertinent in the future.
Mr. Hynes, resentful of losing to Mr. Thompson in a ferocious primary and general election last year, did very little to make Mr. Thompson's transition into the district attorney's office smooth, sources recall. After postponing several meetings with Mr. Thompson, Mr. Hynes met with Mr. Thompson once for roughly 30 minutes.
"It was very much a formality," a Democratic source said. "He didn't do much to help at all."
Mr. Hynes' outright disregard for Mr. Thompson became public again when the New York Times published emails sent from Mr. Hynes' account to allies during the course of the campaign. Mr. Hynes even called Mr. Thompson "a clown," according to one e-mail.
"I'm not sure I understand Thompson's strategy. Overall I think I benefit from the ancient adage that you can't beat someone with no one," Mr. Hynes wrote in March of 2013.
Nine months later, Mr. Hynes would be out of a job.