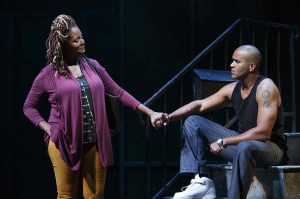 A week before the recent revival of A Raisin in the Sun ended its Broadway run at the Barrymore, it pulled this year's biggest Tony upset by raking in three major awards—Best Director, Best Featured Actress and Best Revival. The show's director, Kenny Leon, came out of the chute first, staggering into the aisle at Radio City, reeling himself upright and making it to the podium, where he uttered the revival's raison d'être—"Denzel! Denzel! Denzel!"—and thanked the three female co-stars who were up for Tonys: LaTanya Richardson Jackson, Anika Noni Rose and, minutes away from winning, Sophie Okonedo, a Broadway-bowing Jewish-Nigerian-Brit who proved herself right at home in Lorraine Hansberry's Chicago.
When he hit the press room, Mr. Leon was still a-jangle—"That was shocking! stunning! surprising!"—but nothing cures the head swelling that accompanies a Tony win quicker than having a new show to open, and, in a recent interview with the Observer, Mr. Leon came down to earth when asked about Holler If Ya Hear Me, the musical he is stitching together from the songs of Tupac Shakur.
"I'm one of the few directors who had something to do with my time during that nervous march to the Tonys," he said. "It was a good balance … to do both—stand on 47th Street and see one show about to close and another about to open."
Holler has been on his plate for five years—ever since filmmaker Eric Gold proposed a show of Shakur's songs. Their first question: Tupac or not Tupac? Both agreed "it would be better to use 'Pac's music in a not-biographical way."
In Holler, 20 of the songs Shakur left behind are used as visceral counterpoints for a fabricated storyline that mirrors the violence and ghetto hardships in his lyrics.
Todd Kreidler's musical book takes place in a tactfully unnamed Midwestern city and involves two buddies, a woman with whom they are both involved, street gangs and gun brandishing. A story of survival, it sports portable stoops and steel fences by set designer David Gallo.
The fact that, at 58, Mr. Leon is better looking than most of his leading men betrays his acting past. He started toward Broadway as an actor in August Wilson's Gem of the Ocean—hired by Marion McClinton, who had replaced Lloyd Richards as Mr. Wilson's main-man director—but when Mr. McClinton fell ill en route to Broadway, the playwright asked Mr. Leon to take over the directorial reins. He was so pleased with the results that he asked Mr. Leon, on opening night, to direct Radio Golf.
"In the last moments of August's last play, when the leading character walks into a room, he hears a song playing," Mr. Leon pointed out with pride. "That song was 'Me Against the World' by Tupac. I had to call Tupac's mom to get the rights to it.
"Eric Gold originally approached August about writing this play, so August listened to the music and was considering it, but he just didn't have the time because he wanted to finish his 10 plays. His dramaturge and writing assistant on his last two plays happened to be Todd, so he turned the project over to him. August was always pushing Todd to get out there and write, and Holler If Ya Hear Me is the result of that. August put us all together, really. In some ways, we're August's children."
Holler is the first musical—and the eighth production dealing with the African-American experience—that Mr. Leon has helmed in his two decades on Broadway. From his first revival of A Raisin in the Sun in 2004 to his second in 2014, he has directed five Tony-winning performances, including those by Denzel Washington and Viola Davis in the 2010 revival of Fences.
His first Raisin, like his second, earned Tony nominations for its women (Phylicia Rashad, Audra McDonald and Sanaa Lathan) and nada for its leading man (Sean Combs). Ms. Rashad became the first African-American to be named Best Actress in a Play, and Ms. McDonald, who became the third on June 8, won as Best Actress.
"What Audra did was great, and what Sophie did was great—but it was two different performances," Mr. Leon said. "I try to pull out the truth in the character from whoever plays the role. I like working with actors who make choices. Whether they get their ideas from me or from themselves, I want them to own all the choices so I can take my hand out of it. When people see my play, they see the play—not tricks."
When Mr. Leon wasn't nominated for the first Raisin, Ms. Rashad cracked, "I guess the play directed itself."
Now he's been recognized—but this is no time to rest on laurels. "There's a lot of pressure to get this up and get it right," he said. "My hope is that Holler will be, 55 years from now, like A Raisin in the Sun. It, too, is a play about realizing dreams."