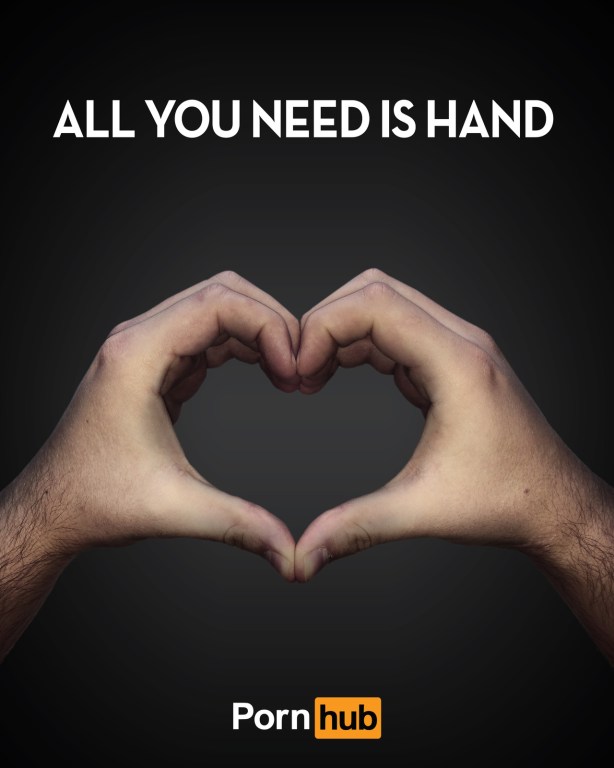 After months of deliberation by one of the world's largest porn sites and its community, Pornhub has finally chosen a Creative Director to help the site break into the mainstream.
Pornhub held a contest over the past few months to find a new Creative Director, in which candidates submitted "Safe For Work" advertisements for Pornhub. A dozen of the contest's best were chosen as finalists from thousands of submissions. Among the top-ranking campaign ideas were "Everyone's got a ritual. Discover yours," and "America's Largest Do-It-Yourself Website." From those, Nuri Gulver's "All You Need Is Hand" campaign won Best in Show.
Mr. Gulver, a Turkish copywriter and creative strategist, will work for Pornhub for at least 12 months. The proposed campaign takes advantage of the "effective insight" that hands are a big part of our daily lives.
"Because of our icon is a hand, our campaign will easily integrated into any media," Mr. Gulver writes in the proposal. "Because everyone has it or familiar it."
As part of his proposla, Mr. Gulver also came up with an idea for a TV ad: "people of different nationalities, with different types of hands [singing] our 'All You Need Is Hand' song with the music of 'All You Need Is Love.'" What they'll be doing in the commercial while singing the fap anthem is left to the imagination.
The campaign — which includes plans for TV, radio, Internet, and direct marketing — will ensure that "everything we do with our hands will bring our minds Pornhub." For the radio campaign where the "Pornhub Choir" sings the Beatles parody, so that you can listen to a song about masturbation while driving your kids to school in the morning.
Given that broadcasters have the freedom to reject ads that don't sit well with them, it still remains to be seen whether Mr. Gulver's ads will make it to prime time. But hey, Trojan hasn't exactly been so subtle lately either.