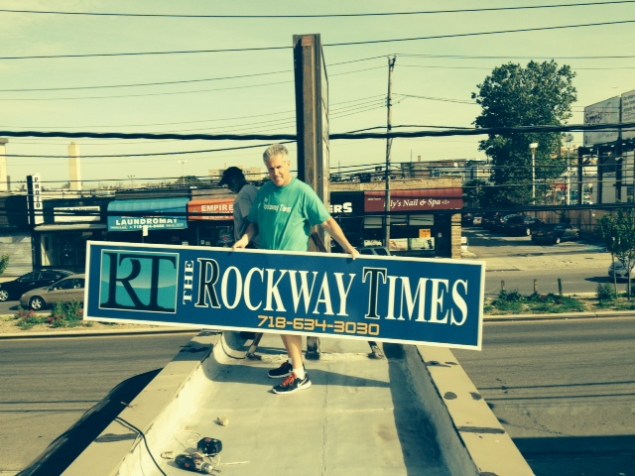 Here's some news you don't see that often: a new print newspaper is launching next week.
With skin weathered by his 24 years as a Rockaway resident, a wide smile and a casual tee shirt, Kevin Boyle, the 55-year-old owner and editor of The Rockaway Times is optimistic about the new paper, which is particularly surprising given the difficult print climate.
The free weekly will be published by Patricia Adams, the publisher for The Forum Newsgroup, a chain of community newspapers in Queens, and has one full-time reporter on staff. It will cover local-interest stories, ranging from the more serious issues — such as the aftermath of Hurricane Sandy — to more light-hearted ones — such as columns about bartending and surfing.
"Some people feel that Sandy related stuff is beating a dead horse. And it's easy if everything is okay in your life, but there are still people who remain affected," he said, citing as an example a member of his sales team who had been living in a hotel until three weeks ago.
But Mr. Boyle doesn't want the paper to be a downer. He wants to create a publication that captures what he loves about his community.
"I'm not a straight journalist, I'm a cheerleader in some ways. Rockaway is still hurting and it needs a cheerleader, and I don't lose sight of that as an obligation," he said, which differentiates his paper from more straight-and-hard journalism, like the Rockaway coverage on DNAinfo.
It's because of this distinct local voice that Mr. Boyle is not that concerned about the paper's entrance into a mainly digital world. "Print publications aren't failing in small towns if they reflect the community they serve," he said.
"We intend to serve the needs of the community, report on the community and to give the community's opinion," Ms. Adams said. "It's an exciting community, and the readership is very proactive."
The paper will also have podcasts and an "energetic, dynamic online presence," which Mr. Boyle hopes will help it succeed.
So far, the concept of the paper has gotten a good reception, with many advertisers and people in town excited about the project, according to Mr. Boyle, who said local advertisers often prefer print publications.
But "the proof is in the pudding, and that's when they write the check," he said. And so far, the proof is there, with companies buying ads from the paper's two salespeople.
This is not Mr. Boyle's first foray into the newspaper world of Rockaway. He has served as the editor of The Wave — Rockaway's primary, 50-cent weekly newspaper that has been around since 1893 — twice in the past.
Mr. Boyle — a former English teacher and author of Braving the Waves: Rockaway Rises — And Rises Again, a book about Sept. 11's impact on Rockaway — first joined the staff of The Wave 13 years ago as editor when he noticed the opening and was looking for a change. He stayed there for five years before moving on to other ventures, but returned to pinch hit after Sandy, when The Wave had stopped publishing.
Mr. Boyle tried to buy the paper, but gave up and left after months of failed negotiations, announcing his departure in his May 2 edition of the Boyleing Point, his humor column that he plans on reviving in the new paper.
"Not to pat myself on the back too hard, but I was a big part of The Wave's voice. I leave a void, and I think I can fill it in a different way by starting a new newspaper," said Mr. Boyle, who didn't plan to start his own paper until he got the idea when The Forum Newsgroup contacted him to suggest starting one.
But even though he is starting a paper to rival his old employer, he says that there are no hard feelings. Besides, it's hard to imagine the good-natured, Rockaway super-fan having much animosity for anything local.
"The more voices the merrier," he said. "It's ok if more than one newspaper yells at City Hall to get things done."
And the good feelings are somewhat mutual.
"I wish Kevin and his new publication all the best," wrote Mark Healey, The Wave's managing editor, in an email to The Observer. "I welcome that responsibility as well as any competition. I am certainly no stranger to either during my journalistic career."
Mr. Boyle's hopeful attitude extends beyond the paper and to the entirety of Rockaway. Mr. Boyle has not only invested in the newspaper, but also in real estate on the peninsula.
He attributes the neighborhood's charm to the relationships between the people. "We walk past our neighbors everyday. There is just this common ground that builds a really strong community," he said.
And it is these people, Mr. Boyle believes, who have helped bring Rockaway back after the 2012 trauma of Hurricane Sandy, when the storm washed away Rockaway homes, stores and the boardwalk, taking lives in the process.
"I'm not relying on the government to get us to the promised land. I think people themselves, small business people, make all the difference," he said, citing the growing surfing and artist communities with their new businesses, energy and projects, such as the art festival coming to Rockaway's Fort Tilden later this month, a collaboration with the MoMa.
Although, he added, without improved transportation and its boardwalk — which will not be completed for a few years — Rockaway will not reach its full potential.
In somewhere as cynical as New York, Mr. Boyle's sunny outlook is refreshing. But maybe it stems from the place. "If you're not having fun, you're the problem, not Rockaway," he said.