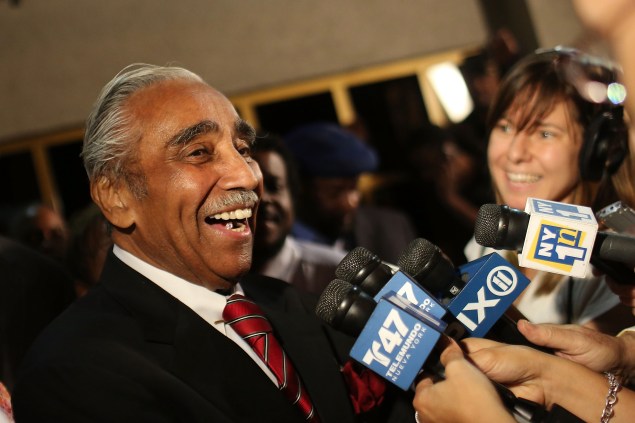 Gov. Andrew Cuomo has backed Congressman Charlie Rangel over his challenger, State Senator Adriano Espaillat, with two days left before the Democratic primary–the latest last-minute endorsement for the 84-year-old incumbent.
Mr. Cuomo praised Mr. Rangel for his decades of work in the House of Representatives and for his fierce criticism of the Tea Party.
"Charlie Rangel has fought for the people of his district for over 40 years. His experience, seniority,and steadfast commitment to improving the lives of New Yorkers continue to make him a critical voice in standing up to the Tea Party extremism that is threatening to take over Washington," the governor said. "Charlie has dedicated his life to being a strong, progressive leader consistently delivering for his constituents."
Mr. Rangel returned the kind words, and said the endorsement showed the political winds are blowing in his direction.
"Governor Cuomo has been an outstanding partner in government – fighting for progressive values and bringing the State of New York back on track. I look forward to working closely with the Governor over the next two years to keep delivering results for our communities," Mr. Rangel said. "Heading into the final phase of this campaign, we are taking nothing for granted but it's clear that momentum is on our side."
Mr. Cuomo's vow of support comes on the heels of an endorsement from Public Advocate Tish James and an NY1/Siena College poll showing Mr. Rangel with a 13-point lead over Mr. Espaillat.
Mr. Espaillat's team said they were undeterred by the governor's endorsement of Mr. Rangel, pointing to their own big-name supporters–supporters the state senator lacked when he first challenged Mr. Rangel in 2012.
"Adriano Espaillat was 1,000 votes away from unseating Congressman Rangel in 2012 as an insurgent with no political support," said campaign manager Jesse Campoamor. "Two years later, the call for change is even louder–Adriano has been endorsed by the New York Times and progressive leaders like Speaker Melissa Mark-Viverito, Comptroller Scott Stringer, Bronx Borough President Ruben Diaz Jr and the Working Families Party."
Also running in the race are Pastor Mike Walrond and Bronx activist Yolanda Garcia. The Democratic primary is set for June 24.
Updated to include comment from Mr. Espaillat's campaign.