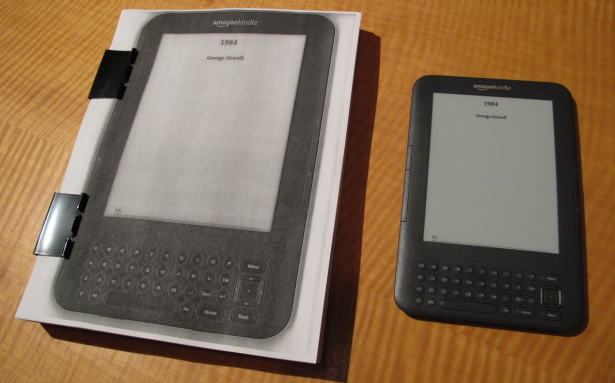 Digitizing books and information has big benefits, like worldwide access to data and learning tools, the democratization of publishing and saving some trees along the way. There also seem to be no shortage of projects that want to reverse that trend.
Jesse England, an artist whose work is critical of trends in digital media, made a printed book of his ebook copy of "1984" in protest of companies like Amazon and Netflix. He calls it "E-Book backup," and made it by simply photocopying each page of the book on his Kindle and clip-binding them. In an ultimate splash of irony, the physical book was then made into an ebook.
The project was inspired by an incident in 2009 where Amazon pulled a digital copy of the George Orwell novel (of all things) from the Kindle store — and out of people's devices — because the distributer of the ebook wasn't the actual rights holder. The customers that felt cheated were compensated and apologized to, but to Mr. England, the fiasco paints a picture of possible censorship by digital retailers.
The point he raises is a sound one: global corporations have a growing and troublesome level of control over our media diets. Ebook backup may dip its toes into the realm of civil disobedience, considering it might be copyright infringement, but he probably won't get in much trouble unless he tried selling copies.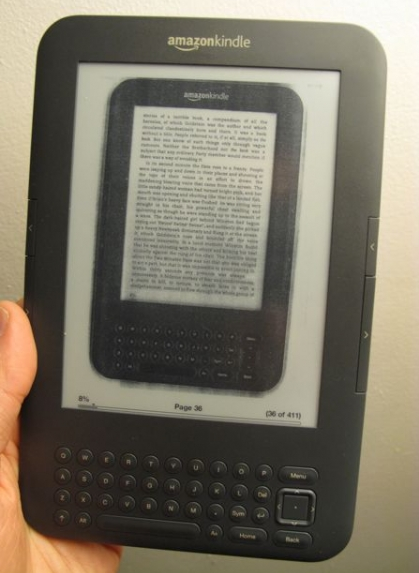 On the project's home page, Mr. England says other "insidious" trends like the move from VCR tapes to digital video pose the same kind of threat to our freedom.
"Even more troublesome are on-demand video providers which withdraw video content at the whims of rights holders in the wake of mergers or lawsuits" Mr. England writes. "I'm wary of a similar trend occurring over time in the realm of ebooks."
Mr. England wants to be clear: he's no technophobe. He understands all of the benefits of publishing technology, saying that it puts power into the hands of the young and the creative, and makes rare works more available.
"I do not fear electronic media," Mr. England declares on his site. "I fear an invisible hand ever at the ready to pull back what I have already purchased for my self."
[h/t Hyperallergic]