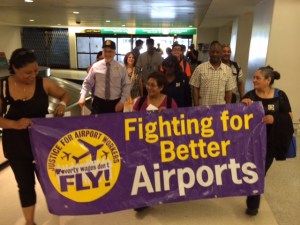 NEWARK – An assembly of workers, labor union leaders and local politicians gathered at Newark Airport today to demand answers to one question: why United Airlines apparently did not grant the same wage hike to its workers provided by other large airlines, a change just announced by the Port Authority of New York and New Jersey.
The Port Authority announced last Friday that new minimum wage rules for non-trade labor service contract workers of entities doing business at John F. Kennedy, Newark Liberty and LaGuardia airports would soon be in effect.
According to a June 13 Port Authority press release, effective July 31, 2014, wages for workers performing covered services at these airports will increase by $1 per hour for those earning $9 per hour or less. Effective February 1, 2015, the wages for these workers will increase to $10.10 per hour. Once the wage level of $10.10 per hour is established, beginning February 1, 2016, wage levels will be indexed to the Consumer Price Index for Urban Wage Earners and Clerical Workers. In addition to the wage increases, all contractors subject to the policy and these rules shall provide their workers with a paid holiday for Martin Luther King, Jr. Day.
In copies of correspondence between the Port Authority and major airlines such as Delta, JetBlue and American Airlines dated earlier this year and obtained by PolitickerNJ.com, corporate representatives of the aforementioned airlines said that they would comply with the Port Authority's changing guidelines about raising airport worker pay. Only United disagreed, stating in a letter dated March 17, 2014 that the raising airport worker pay would "raise significant legal issues" and other "issues of concern" for the airline.
As a result of United's apparent decision not the raise the airport workers' wage in compliance with the change announced by the Port Authority, local political leaders assembled to protest on Wednesday. These leaders included Newark Mayor Luis Quintana; Newark City Council President Mildred Crump; and the Rev. Patrick Council, an ally for Newark Mayor-elect Ras Baraka and the newly-elected Democratic chair of Newark's South Ward.
"This is no joke. Shame on United," said Crump. "They are receiving billions of dollars in public money, and they say no? Well guess what? If they say no, we say no to them."
A group of of about 25 workers, labor leaders and local politicos then marched upstairs to United offices inside Terminal C asking to speak to company officials. They were told that no one was present to answer their questions in the presence of PolitickerNJ.com
"This is disrespect. This is not right," said Kevin Brown, New Jersey state director of labor union SEIU 32BJ. "We will keep fighting until we finally get some answers."