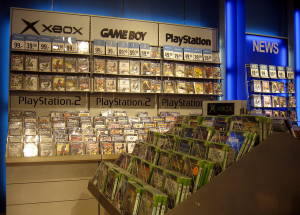 A Buffalo man is auctioning off the holy grail of nerd-dom: the world's largest videogame collection. If you want it to be yours, be prepared to shell out a cool $50,000 — at the very least.
Michael Thomasson has amassed the collection, which features over 11,000 games and 100 different consoles, over the past 20 years, ArsTechnica reports. He says he buys one to two games per day, and spends around $3,000 per year updating the collection. Guinness has certified Mr. Thomasson's videogame collection as the largest in the world.
But now, the determined collector is itching to sell it so he can use the money to help "immediate family and extended family that have needs that need to be addressed," according to ArsTechnica. Now that's devotion.
The auction, taking place on GameGavel, started on Wednesday at $1, and the current bid is already $50,000. If you're anxious to enter the fray, be prepared to pony up a casual $50,250.
Bidding ends June 15, by which point we won't be surprised if the planet has descended into full-scale geek warfare.