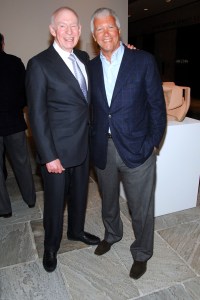 Apartment living, no matter how extravagant, poses certain practical difficulties to horse breeders. On-site storage facilities, even at posh River House, at 435 East 52nd Street, simply do not make sufficient stables, and it helps to have, as Betty Barton Evans and her husband Thomas Mellon Evans did, hundreds of acres of farmland in Kentucky and Virginia on which to graze the herd. And effective grazing it was: the Evans' Kentucky farm begat Pleasant Colony, the 1981 winner of the Preakness Stakes and Kentucky Derby.
Ms. Evans, who died early last year, was married for 20 years to Mr. Evans, a financier and descendant of Andrew Mellon described variously as "one of Wall Street's most feared corporate raiders" of the 50s and 60s, and "the corporate embodiment of Jaws." (Mr. Evans passed away in 1997.) Cutthroat tactics on Wall Street were no less useful decades ago than they are today in acquiring prime Manhattan property, and Ms. Evans' estate has just sold her River House duplex for $14.5 million, according to city records.
The buyer, lawyer Aaron I. Fleischman, is a prominent collector of works of modern and contemporary art, which, of course, fit rather more comfortably than thoroughbreds within the confines of a co-op. And he seems to have gotten quite a deal; last February, the asking price was $11 million more than he paid. But to be sure, there's plenty of space for wall hangings.
A private elevator will whisk Mr. Fleischman to an impressive entry gallery, off of which curves a staircase to a massive double master suite featuring a sitting room with a wood-burning fireplace. There are a sauna and an original silver safe, five staff rooms and a capacious wine room, which, according to the listing held by Caroline Guthrie at Brown Harris Stevens, also offers fur storage. (There's nothing like getting a little tipsy at home and trying on the Winter collection, right?) There's a bar, too, in case the wine isn't doing it, plus East River views, pouring light and all of the prewar architectural integrity the building is famous for. It is, the listing avers, "amongst the greatest apartments of the city"(!)
Perhaps Mr. Fleischman, who splits his time between New York, Washington D.C. and Miami, might thus be persuaded to spend more months in our fair city—at least after he gets around to renovating that kitchen.