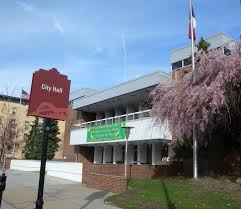 BAYONNE – A high-ranking Bayonne city official told PolitickerNJ.com that claims that the signer of an affidavit claiming that the campaign of Bayonne mayoral candidate Jimmy Davis has committed voter fraud in his effort to unseat incumbent Mayor Mark Smith is tied to a local newspaper that reportedly has a contract with the Smith-led city administration is "ridiculous."
"There is no contract. None," said Bayonne Business Administrator Stephen Gallo at Smith's campaign headquarters on Sunday night, referring to any reported relationship between the Hudson Reporter newspaper and magazine chain, which includes the Bayonne Community News and Bayonne – Life on the Peninsula, and the city administration. "There is no obligation going forward. In the past, we have supported both Bayonne magazine and we've placed advertisements in the Hudson Reporter series of newspapers."
Two Hudson County-based sources who requested anonymity told PolitickerNJ.com that the Hudson Reporter signed a contract with the City of Bayonne administration last year in order to at least partially pay for the production of a new Hudson Reporter magazine, Bayonne – Life on the Peninsula. The magazine's first issue was published in the spring of 2014, a few weeks before the May 13 Bayonne municipal election.
Smith is battling to beat back a surging Davis following the May 13 Bayonne municipal elections which left Smith barely ahead of Davis by a 49 percent to 47 percent margin and precipitated the June 10 runoff, just one day away. 
PolitickerNJ.com reported on June 5 that a copy of a signed and notarized witness statement provided to the website by the Smith campaign outlines an alleged voter fraud incident that took place less than three weeks ago. The woman allegedly involved in voter fraud with the help of a Davis campaign worker was subsequently stricken from Bayonne voting rolls following an investigation by the Hudson County Superintendent of Elections Office. The signer of the statement was identified as Tricia Kraszyk. Kraszyk is the advertising manager of the Hudson Reporter. The Hudson Reporter, according to its website, was founded in 1983 and publishes nine weekly newspapers, "capturing the highest home-delivered circulation of any newspaper in Hudson County."
In a June 7 PolitickerNJ.com article, Kraszyk, who wrote a May 7 letter to the editor in the Hudson Reporter decrying the "evil campaign tactics" of a local publication that alluded to her developmentally-disabled daughter who works in City Hall, defended her actions.
"On the record, the affidavit speaks for itself. I was sitting there, and it's exactly what happened." Kraszyk said. "And I recorded it on the day it happened." 
"Please consider the source of these evil campaign tactics when casting your vote next Tuesday and what they mean for the leadership of our city," Kraszyk's letter concludes, making a postive allusion to Smith. 
As for which entity paid to fund the publication of Bayonne – Life on the Peninsula, Kraszyk deferred the question to David Unger, co-publisher of the Hudson Reporter. 
Unger subsequently deferred the funding question to Bayonne city authorities. However, Unger did speak out regarding Kraszyk's role in recent Bayonne mayoral campaign events. 
"At no time did I have anything to do with [the affidavit signed by Kraszyk]," Unger told PolitickerNJ.com. "We viewed [Kraszyk's editorial] as a personal response by [Kraszyk] to a personal attack on her family. And as a result, we didn't think it was ethically challenged." 
When asked if the city administration has any direct influence over the content of any Hudson Reporter publications, Gallo specifically referred to one Hudson Reporter journalist.
"We have a long-standing relationship with the Bayonne Community News that is strictly professional. Al Sullivan certainly does not always report on everything favorably," said Gallo is reference to Sullivan, the Hudson Reporter's longtime political reporter. "There is no way you are swaying his content. As far as journalistic integrity, the Hudson Reporter prints what it wants to print. We have no influence over its content, and we had no influence over the content of the magazine. We did not write any articles, and we did not know what they were writing beforehand."
But when reached by PolitickerNJ.com regarding Gallo's claims that the Bayonne city administration does not interfere with the content of Hudson Reporter publications, Sullivan disagreed. 
"Sure. That's why [Gallo] yanked advertising for our paper when I wrote something that he didn't like," said Sullivan on Monday, who formerly covered Bayonne for the Hudson Reporter newspaper chain and who now covers Jersey City as well as serving as the lead political reporter. Sullivan did not elaborate on what he reportedly wrote that Gallo allegedly did not like.
"I'm mystified," Gallo replied. "[Sullivan] can write what he wants, and political advertisers can advertise wherever we want. We don't try to tell him what to print."