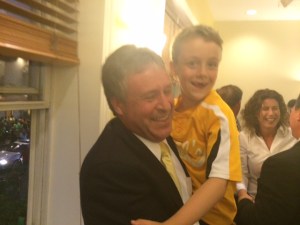 BAYONNE – After weeks of rising tension, Bayonne exploded like a bomb Tuesday night at the decisive moment of the city's mayoral runoff election.
The device was detonated at precisely 8:52 p.m., when Joe DeMarco, the campaign manager for insurgent candidate Jimmy Davis, looked up from his computer in the upstairs room at the San Vito restaurant and looked across the room at Davis, who was waiting with family and friends for the final results.
DeMarco paused, smiled, then yelled out one word to Davis.
"Mayor!" DeMarco exclaimed.
DeMarco's declaration of Davis' victory set off a series of successive explosions across the Peninsula City as word of Davis' triumph hit the Hudson County city's streets.
A growing crowd of hundreds of Davis supporters gathered on the sidewalk outside the San Vito joyously spilled into the street, blocking Broadway as they chanted "Davis! Davis! Davis!" The cheers grew so crazed that Davis did what his back-slapping crew suggested that he do – holding his seven-year-old son in his arms, father and son poked their heads out of a window and waved, resulting in another sonic outburst of adulation from the crowd.
The voters spoke out in favor of Davis on Tuesday by a close but clear margin. Davis defeated Smith in Bayonne, 51.27% to 48.73%, according to unofficial Tuesday night results from the Hudson County Clerk. Davis received 8,167 votes to Smith's 7,761, including absentee ballots.
After wading through a human river of cheering supporters as he crossed Broadway to address supporters at the Villa Maria restaurant, Davis, now Bayonne's Mayor-elect, addressed the crowd in a joyous and reconciliatory mood.
"We have to come together as a city now," said Davis to the packed back room audience. "This campaign, as crazy as it got, proves how much passion people feel in their hearts about Bayonne. Now, we have to put that passion to good use and build a better Bayonne together."
State Senator Ray Lesniak (D-20), who praised Davis at the victory rally for including Bayonne's growing Latino community in his winning campaign effort, told PolitickerNJ.com he hopes to be part of a positive movement within New Jersey's Democratic Party.
"[Newark Mayor-elect] Ras Baraka and Jimmy Davis are the future of our state's Democratic Party," said Lesniak, referring to two prominent North Jersey mayoral candidates that he has supported with funds and campaign resources in recent weeks. "We need to support candidates like them if we want to move our party forward, and away from the way we've often done things in the past."
"Jimmy Davis will be welcomed into the Hudson County Democratic family," said West New York Mayor Felix Roque, who was also at Davis' victory party. Roque's upset victory in the 2011 West New York mayoral contest came with the help of DeMarco, the former counsel in West New York, who Davis specifically gave a shout-out to during his victory speech.
"Joe DeMarco is a political campaign surgeon – he cuts away the opposition, and puts together people who can win together," Roque told PolitickerNJ.com on Broadway as pro-Davis revelers partied on into the night. "I look forward to West New York building a strong relationship with Bayonne with Jimmy Davis as mayor."
The atmosphere inside the Smith camp's gathering, held all the way uptown at the Chandelier catering hall, was far more subdued in light of the close yet shocking defeat for Smith, once the Hudson County Democratic Organization (HCDO) chairman.
"The people of Bayonne have made their voices heard," said Smith in a written statement issued during the event. "I am proud of the great things we have accomplished, putting our city back on sound financial footing and we have made Bayonne a better place. I wish the Mayor-elect all the best."
Smith's campaign manager, state Assemblyman Jason O'Donnell (D-31), a Bayonne firefighter, was reflective after he had just finished a hard-fought battle.
"Mark Smith came into office under trying circumstances," said O'Donnell. "He navigated Bayonne to a point where it could flourish. I wish the new mayor and his new administration all the success in the world. Their success is our success."
As for his political future, O'Donnell emphasized that for him, perspective is key.
"This is politics. I'm attached to Mark Smith, and now it's perceived by some that I'm in political jeopardy. I will continue to serve my legilslative district, and before the June 2015 primary, I'll make my decision wheether I'll seek re-election. That's it. Anything else, I say this: whatever."
"I feel bad for Mark Smith and his family. He gave his heart and soul to the city," said state Senator and former Governor Richard Codey (D-27), who campaigned for Smith at the 8th street light rail station in Bayonne the day before the June 10 mayoral runoff election. "I wish the new mayor the best of luck."
"I think the results for Davis are just as much a win for Davis as it was for [the teachers' union]," said Jersey City Mayor Steve Fulop, who also backed Smith. "After years of teachers being beat up, the results yesterday show that they are very much alive and well. I am particularly happy that every indication from Davis has been that he is looking to work with the Hudson [Democratic] team, and we certainly want to work with him and be supportive as he assumes a very challenging job."
The morning after Davis' victory, Bayonne native Kelly Fitzmaurice, back to visit family and caught up the fervor of the Bayonne mayoral runoff, was pleased with the results.
"It was time for a change, and I think the people of Bayonne knew that," said Fitzmaurice, 37, a school teacher on vacation who was reading a book at the Dunkin' Donuts near the 8th Street light rail station. "The need for change was why so many people in Bayonne came out en masse to back Davis when he needed it most."
"Mark Smith shouldn't have gone after the teachers so hard," said a male school teacher in his 30s who was standing on line at Dunkin' Donuts and who requested anonymity. "All that stuff Smith said about Davis trying to bankrupt the city because Davis wanted Smith to finally sign some sort of contract with the teachers after years without it just didn't work. In fact, it backfired. Badly."
"This may be a small town, but it's a hell of a lot of people," said Faryn Lynch, 26, a lifetime Bayonne resident and photographer, as she waited for the next train. "This is home. And we finally feel like it is home again."
Just blocks away from her home in Bayonne's Bergen Point neighborhood during Tuesday night's traveling pro-Davis celebration, a woman wearing an orange Davis tee-shirt was celebrating with the rest of the Davis camp, including Davis himself, at the Venice restaurant. Packed in tight with what seemed to be half of Bayonne at the jammed bar, the woman stared happily up at the bar's ceiling, having a private moment in public, lost in a reverie made up of both libations and unmistakeable joy.
"I can't believe it. I just can't believe it," the woman said, smiling, with tears streaming down her face. "He did it. Jimmy did it. Jimmy won. We won."