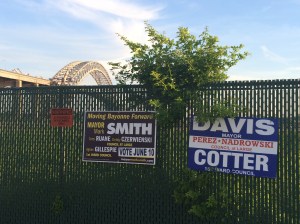 BAYONNE – After observing high voter turnout across Bayonne during the city's sharply contested mayoral runoff election on Tuesday, a Hudson County Democratic source gave PolitickerNJ.com a bold, decisive prediction in the waning hours of the battle to run Bayonne.
"Somebody is going to get blown out," said the source, who requested anonymity, stating that there were 2,000 more votes cast in Bayonne's mayoral runoff today as of 4 p.m. than votes cast in the May 13 municipal election.
But what the source was undecided about was what this apparent voting surge means for today's result as time ticks away before polls close in Bayonne at 8 p.m.
"All of these additional votes could mean that Smith convinced Bayonne voters that if Davis gets elected today and settles a contract with the city's teachers that means an 18 percent pay raise, like Smith has been saying, then all homeowners' taxes will go up. If the voters believe Smith, then they are going against Davis in significant numbers.
"It could mean, however, that there is a massive vote for change in Bayonne today," the source added. "We're all going to find out what it means real soon."