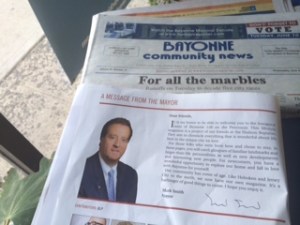 BAYONNE – The signer of an affidavit claiming that the campaign of Bayonne mayoral candidate Jimmy Davis has committed voter fraud in his effort to unseat incumbent Mayor Mark Smith is tied to a local newspaper that reportedly has a contract with the Smith-led city administration, according to sources.
PolitickerNJ.com previously reported that a copy of a signed and notarized witness statement provided to the website by the Smith campaign outlines an alleged voter fraud incident that took place less than three weeks ago.
"On Monday, May 19, 2014 I was getting a pedicure at Aphrodite Nails, a newly opened nail salon at 444 Broadway on the corner of 21st St.," the letter, written by reported witness Patricia Kraszyk, reads.
"As I was sitting in the chair, a woman wearing a Davis for Mayor campaign shirt came into the salon and handed the owner a slip of paper. She said, "here you go, you are all set." The owner, whom I know as Sarah Moon replied, but I couldn't hear what she said. The campaign worker responded, "No, that's all you need. You can vote." and left the salon.
"Before I left, I spoke with Sarah and asked if she was registered. She said yes, that the Davis people came in and handled everything for her. I then asked if she lived in Bayonne and she said no. I told her that she couldn't vote in the election unless she lived in Bayonne, but she said that the Davis worker told her it didn't matter. They said she could use the business address to register. I told her that was illegal and that they can't do that.
"It's important to note that there is no language barrier with Sarah Moon. I believe she is Korean, but speaks perfect English and Spanish. She was articulate in her explanation of the facts to me."
A forwarded email written on June 2 by Donna DeSomma, a secretary at the Hudson County Superintendent of Elections Office, to William Northgrave, a Smith campaign attorney, confirms that the county elections office investigated the registration of Moon.
"[Moon] informed our investigator that she did in fact register from her place of business but did so not knowing that it is illegal. She also stated that she is a resident of Fort Lee," the email reads.
"Since the books have already been printed we have placed a sticker on her signature line advising that Ms. Moon must show proof of residence should she attempt to vote on June 10th. We have also removed her from our files as "out of county"," the email concludes.
John Brzozowski, the acting Hudson County Superintendent of Elections, is CCd on the email.
A Internet search of the last name "Kraszyk" leads to the Linkedin page of Tish Kraszyk, who is identified at the advertising manager at the Hudson Reporter. The Hudson Reporter, according to its website, was founded in 1983 and publishes nine weekly newspapers, "capturing the highest home-delivered circulation of any newspaper in Hudson County." The Hudson Reporter website also states that Kraszyk is the local media organization's advertising manager.
Two Hudson County-based sources who requested anonymity told PolitickerNJ.com that the Hudson Reporter signed a contract with the City of Bayonne administration last year in order to at least partially pay for the production of a new Hudson Reporter magazine, Bayonne – Life on the Peninsula. The magazine's first issue was published in the spring of 2014, a few weeks before the May 13 Bayonne municipal election.
Smith is battling to beat back a surging Davis following the May 13 Bayonne municipal elections which left Smith barely ahead of Davis by a 49 percent to 47 percent margin and precipitated the June 10 runoff, just three days away.
In a letter to the editor published May 7 by the Hudson Reporter on the media organization's website, Kraszyk criticized the "evil campaign tactics" of a certain local publication.
"I've worked at The Hudson Reporter for almost 18 years and have handled the advertising for dozens of political candidates all over Hudson County," Kraszyk's letter reads. "I treat each candidate equally and with respect, regardless of my own personal political beliefs. I did this for the many years we lived in Jersey City and for the past almost nine years in Bayonne. I do not attend political fundraisers or contribute to political campaigns. I do not have the power to influence the editorial component of our newspapers.
"This week I was handed a copy of The Peninsula City Tribune, a "newspaper" that is nothing more than political propaganda, published to smear the current administration. My daughter, who is developmentally disabled and working in city hall, was referenced in this paper to allegedly show that the Bayonne Community News [a Hudson Reporter publication] receives "economic benefit" due to my daughter's job. This cheap, political shot was repulsive, and has made this mother very angry and disappointed in our political system."
Kraszyk's daughter has a city job in the mailroom, according to the letter.
"She does not have a "no show" job," Kraszyk writes in the letter. "She's on the job every day and works to the best of her ability."
"My husband and I have spent our lives defending our daughter against bullies and teaching her to stand up for herself," Kraszyk's letter continues. "Never in my wildest dreams would I have expected that we would have to defend her against intelligent, professional, fully functional adults. This is shameful.
"Three years ago, when I told Mayor Smith of our apprehension about our daughter being hired at City Hall, his response was "If I can't help a kid like her, then I have no business being mayor."
"Please consider the source of these evil campaign tactics when casting your vote next Tuesday and what they mean for the leadership of our city," Kraszyk's letter concludes.
In a phone interview with PolitickerNJ.com, Kraszyk stood up for her signature on the affidavit that claimed a Davis campaign worker had engaged in voter fraud.
"On the record, the affidavit speaks for itself. I was sitting there, and it's exactly what happened." Kraszyk said. "And I recorded it on the day it happened."
As for which entity paid to fund the publication of Bayonne – Life on the Peninsula, Kraszyk deferred the question to David Unger, co-publisher of the Hudson Reporter.
Unger subsequently deferred the funding question to Bayonne city authorities. However, Unger did speak out regarding Kraszyk's role in recent Bayonne mayoral campaign events.
"At no time did I have anything to do with [the affidavit signed by Kraszyk]," Unger told PolitickerNJ.com. "We determined that this was personal, in that [Kraszyk] in her letter, with full disclosure, stated that she works for us and has no input, or has nothing to do with, the editorial components of the paper. We decided to let her run it, and that's it. We viewed this as a personal response by [Kraszyk] to a personal attack on her family. And as a result, we didn't think it was ethically challenged."
Calls to city officials requesting information about whether the city government in any way directly funded Bayonne – A Life on the Peninsula were not immediately answered definitively on Friday. But Smith campaign spokesman Michael Makarski made it clear that he believed that the Davis campaign is ethically challenged.
"This is another example of Jimmy Davis' disgusting, dirty campaign and a blatant attempt at character assassination on an honest person who witnessed a clear act of voter fraud. Patricia Kraszyk has no association with the Smith campaign and is simply a Bayonne resident concerned about Jimmy Davis' slimy, illegal campaign tactics," said Makarski in an email. "She signed a sworn affidavit and her account was investigated thoroughly and found to be credible by the Hudson County Board of Elections, a division of the State Attorney General's Office, which took action to remove Davis' fraudulent voter from the rolls. Any suggestion to the contrary is an ill-conceived attempt at covering up Jimmy Davis' criminal act of voter fraud. As a sworn officer of the law, he should know better that this is a clear violation of his sworn oath."
But Davis campaign manager Joe DeMarco stated that is was the Smith campaign that was in violation of ethical standards.
"I am not surprised at all that the Smith camp would sink to such levels as to make false allegations against us. They've been doing so since day one," DeMarco said. "I'm just happy that finally they got their hand caught in the cookie jar."