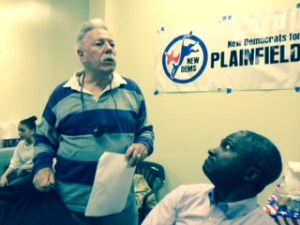 PLAINFIELD – Plainfield Mayor Adrian Mapp believes that Plainfield is "critical" to the outcome of the Twelfth Congressional District Democratic primary battle between the two candidates perceived to have the best chance to win on Tuesday, state Assemblywoman Bonnie Watson Coleman (D-15) and state Senator Linda Greenstein (D-14). 
But Mapp, a Watson Coleman supporter, is afraid that Jerry Green, the Union County Democratic chairman who put her on the line in the city whose turnout may decide what is seen as a neck-and-neck race, may have actually put her out of the winner's circle. 
"I am very concerned that Jerry Green's deliberate attempt to suppress the vote in Plainfield against Bonnie Watson Coleman will turn this primary election over to Linda Greenstein," Mapp told PolitickerNJ.com."Jerry's lackluster support for Bonnie could hurt her chances of victory this evening. I am afraid for Bonnie."
Mapp based his anti-Green assertions on how the Union County Democratic leader, who also is the Plainfield Democratic chairman, has run campaigns in the past.  
"We've seen Jerry in action. This primary, Jerry is so laid back and is not being a vocal chairman. He is not lining up the troops today," said Mapp, who claims that his endorsement of Watson Coleman "boxed in" Green and compelled him to back Watson Coleman instead of Greenstein, that candidate that Mapp believes Green truly preferred. "There is no evidence of support for the candidate he has placed below Senator Cory Booker (D-NJ) in Column A on the ballot here in Union County."
Mapp specifically pointed to what he called "vile" mailers sent out by Green, a state Assemblyman in the 22nd Legislative District, against Mapp and incumbent Plainfield Councilwoman Rebecca Williams. 
"These mailers have incensed local Democrats in Plainfield," Mapp said. "Jerry's behavior could backfire on Bonnie. She is a wonderful person who would make a great Congresswoman. But she should have been more careful in her alignment with our local chairman, specifically when she chose him as one of the co-chairs of her campaign. That was the big mistake. I believe that decision ostracized bases of support that could have been very helpful to her cause, including many voters in Plainfield. We shall see."