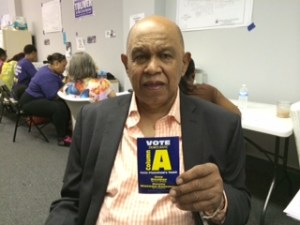 PLAINFIELD – Union County Democratic Chairman Jerry Green answered attacks made by Plainfield Mayor Adrian Mapp on Green's true level of support for state Assemblywoman Bonnie Watson Coleman's (D-15) Twelfth Congressional District Democratic primary bid by first asking a question.
"Who paid for this? I did," said Green, transfixing PolitickerNJ.com with a stern gaze in his Plainfield campaign headquarters less than two hours before polls close on New Jersey's Primary Day. Green said this as he held up a voter palm card showing U.S. Sen. Cory Booker (D-NJ) at the top of the ticket, followed by Watson Coleman on down to the most local level.
"Right now, I've got about 100 people out in the street handing this out, knocking on doors, pulling people out to vote. I'm showing you I'm with Bonnie. Look at all the people here. Is this lackadaisical?" continued state Assemblyman Green (D-22), who is also the Plainfield Democratic municipal chairman, looking around his jammed Park Avenue war room in downtown Plainfield. "I'm busting my chops for Bonnie, spending money. I've got people on the street. My heart is definitely with her, too. Otherwise, I wouldn't have given her the line [in Union County]. I serve in the Assembly with her. She knows this. I'm down 100 percent with Bonnie Watson Coleman."
In the midst of the final, frenzied minutes of a tough Democratic Congressional primary campaign, Green still found time to check Mapp about the assertion made by Plainfield mayor's earlier less than an hour before to PolitickerNJ.com. Mapp stated that his endorsement of Watson Coleman effectively "boxed in" Green, forcing him to go with Watson Coleman instead of state Senator Linda Greenstein (D-14), Watson Coleman's main rival in the CD 12 Democratic primary. Mapp inferred that Green actually preferred Greenstein over Watson Coleman.
"Boxed me in? He didn't box me in! I boxed him in! Mapp did nothing for Bonnie!" Green exclaimed. "As chairman of the party in Union County, we normally have a meeting, and then all of the [municipal] chairmen come together, and then the county chairman explains what he's going to do. Mapp found out about the meeting, and basically put me in the position when I had no other choice but to meet with the [municipal] chairmen and say 'Look – I am recommending that we support Bonnie. I showed the other 20 Union County Democratic municipal chairmen that respect, and they appreciated it. Mapp didn't show them that respect. He thought that he boxed me in, and he didn't box me in, because I still got [the municipal chairmen] to support what I was doing. Don't play me out like this when Mapp did nothing for Bonnie."