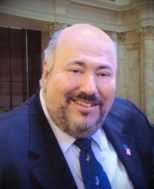 A fireman by trade who vaulted into the legislature with Bayonne Mayor Mark Smith's 2008 win, Assemblyman Jason O'Donnell (D-31) needs Smith to win tomorrow's runoff election if O'Donnell is to have a future in Trenton, or if he is to avoid a potentially costly re-election effort in a weakened condition.
"Bayonne is the ugly stepchild to Jersey City," a Hudson source told PolitickerNJ. "One flub, and they'll cut your ** off."
Even the strongest find themselves vulnerable if they end up on the wrong side of Jersey City, and the pressures on JC mount if a Bayonne politician appears depleted.
The source pointed to no other than Assemblyman Joe Doria (D-31), a former speaker in 2003 and at the time one of the most distinguished occupants of the legislature.
When Glenn Cunningham became Jersey City mayor over the efforts of the Hudson County Democratic Organization, he assembled a renegade slate that included himself, Lou Manzo of Jersey City, and Tony Chiappone of Bayonne.
"Glenn was a powerful grassroots politician from Jersey City, and when Glenn wanted Joe out, Joe was out," a second source said.
Even strong locally as the mayor of Bayonne and an HCDO loyalist with numerous allies, Doria couldn't withstand Cunningham.
Leading his slate against L. Harvey Smith for Senate, incumbent Doria and Elba Perez, the vastly outspent Team Cunningham buried Doria. "Essentially, Glenn ran up his Jersey City totals in Ward F and Joe didn't have anything to combat that," the source said.
Although in the shadow of a watchful Jersey City, O'Donnell has what might be called the closest thing to his own political fate in his hands as the campaign manager for Smith.