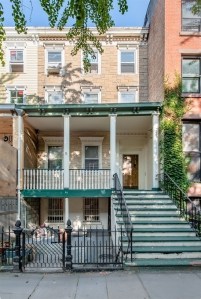 Are the artist Matthew Barney and Björk the new owners of an Italianate frame house at 67 South Elliott Place in Fort Greene? Certainly, there is a Matthew Barney who recently purchased the property—for $1.99 million, according to city records. And certainly, this Matthew Barney engaged the legal services of one Edward Greenberg. But is this man the same Edward Greenberg contracted by Mr. Barney—he of The River of Fundament, he of The Cremaster Cycle—and Björk in connection with the purchase of a $4 million Brooklyn Heights penthouse in 2009? It would seem an unusual coincidence were it not, though the singer's name does not appear on the more recent deed. But then, there have  been rumors…
In any event, let's read on.
Built in 1854, the two-family home stands on a landmarked block, which, the listing held by Corcoran's Paul Murphy wastes no time in mentioning, was once the subject of a New York Times story. A sprawling 3,042 square feet, with a charming, covered front porch, the house contains six bedrooms and original details including the staircase and newel post, pocket doors and a quad of fireplace mantles. Mid-19th century features are not entirely intact, however, and the property is in a rough and ramshackle state—ratty carpet, walls badly in need of fresh paint. Such conditions, of course, represent an "opportunity to restore." And in the event the interiors prove just too much to take as renovations—and single-family conversion, in all likelihood—are under way, a "lush" and sizable fenced yard awaits out back. (The fence, at least, looks fairly new.)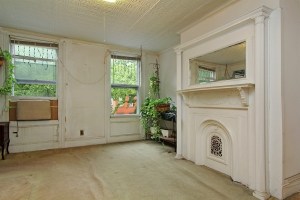 Four years ago, the Times reported that South Elliott had been transformed since the 1970s from a "working-class stretch plagued by drugs" into a refined strip where renovated brownstones could fetch nearly $3 million. (We will refrain here from analysis of the Times' perplexing/problematic characterization of the block's history.) The days of $29,000 four-story brownstones of the kind on offer to "pioneering gentrifiers like Tom and Sharon Kennedy," are long gone, of course. But in light of the street's other recent residents—HBO directors, Jhumpa Lahiri, the offices of Spike Lee—67 South Elliott looks like a prime example of a property type increasingly prevalent in Brooklyn: the multi-million-dollar bargain.