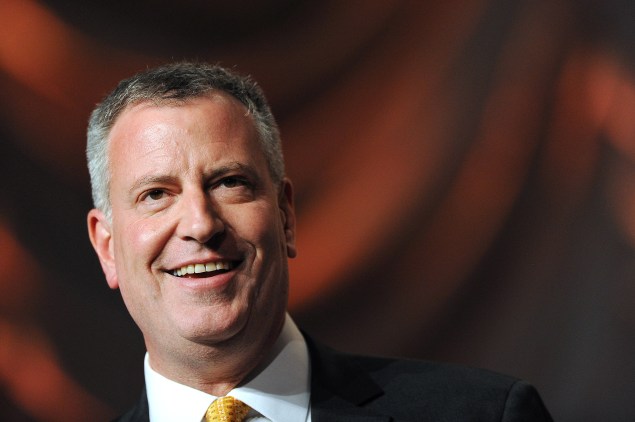 Congressman Charlie Rangel's district was looking to give him one last hurrah, Mayor Bill de Blasio said Wednesday.
"I think in the end, you know, the congressman said this is going to be his last term, I think a lot of people in his district looked at things with that perspective in mind," the mayor told the Observer.
Mr. de Blasio sat out endorsing anyone in the high profile race between Mr. Rangel and State Senator Adriano Espaillat–but many high-profile city officials, including Speaker Melissa Mark-Viverito, a de Blasio ally and someone who shares much of her district with the congressional seat, backed Espaillat and worked to get the vote out on his behalf.
Mr. de Blasio said he didn't believe Rangel's win was a statement on those efforts.
"I don't think its necessarily telling about the future or the endorsers or anything else. I think it was a moment in time and we should see it as such," Mr. de Blasio said after a press conference on the NBA teaming up with the city to provide lunch to school children during the summer.
Mr. Espaillat has yet to concede–though the Associated Press has now called the race for Mr. Rangel and he's received congratulations from the DCCC–and Mr. de Blasio said he respected the call for all votes to be counted.
"I congratulate him on a strong performance," Mr. de Blasio said of Mr. Rangel's showing. "I respect the fact that there's been a request for a formal count. Every candidate has a right to ask for that, so I'll reserve larger judgement until that's concluded."
The mayor said he had not spoken to any candidate, and that he has not received any reports of anything "out of the ordinary" with the Board of Elections operations for the primary race.