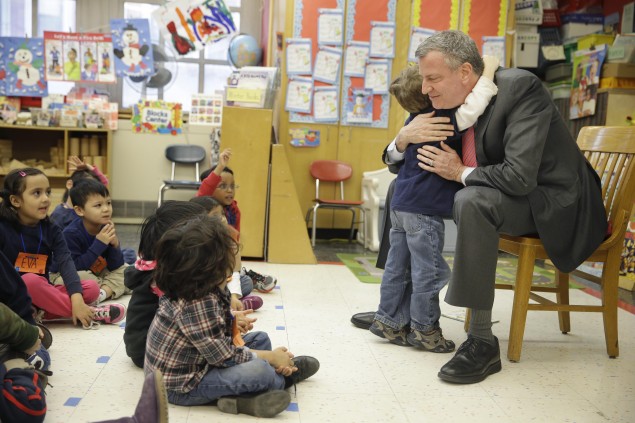 Mayor Bill de Blasio kicked off a universal prekindergarten "Day of Action" rally inside Tweed courthouse today, declaring that he hoped free pre-K would spread "like wildfire" across the country.
The goal of the rally, like much of Mr. de Blasio's press events of late, was to raise awareness of his signature initiative. Several dozen parents, principals and Department of Education volunteers attended the rally.
"This is a transformative moment for our city" Mr. de Blasio said outside the Tweed Courthouse where the DOE is headquartered. "We are doing this to reach out to a whole other generation of kids and give them the start that we wish so many other kids had been given. We are going to do it now, we are going to do it the right way, this time, in our time."
"You have a chance to help make history," he added. "People are watching because this could change the way we think about education all over this country. If we show in the biggest city in the country that we can get full day pre-K for all and we can make it work, then it's my hope that pre-K will spread like wildfire all over and strengthen this whole nation."
Mr. de Blasio appeared with Schools Chancellor Carmen Fariña at the rally, who also spoke.
"Very honestly, this is not just about babysitting," said Ms. Fariña, who explained the general goals of the initiative.
"All children by the end of second grade will be reading on grade level, that all seventh graders will be socially, emotionally and academically ready for high school and that all tenth graders will be college ready and work force ready," she said. "If we are going to be able to accomplish that we know that UPK gives us a whole other year of readiness and it really is crucial."
The mayor also spoke about the long-term benefits of the initiative: "It's going to then reverberate forward. Those children being given that better start, are going to learn better, are going to have better lives ahead, their families will be uplifted and then the whole school system will start to improve."
Ms. Fariña also made it a point to emphasize Mr. de Blasio's commitment to the initiative.
"He could have made promises about anything when he was running for mayor but because this became one of the most important things that he campaigned on, I think it really shows also where his values are and where his moral compass is," she said.
She even gave the Mayor a new nickname: the mayor "will be known as the pre-K King from now on," she said.