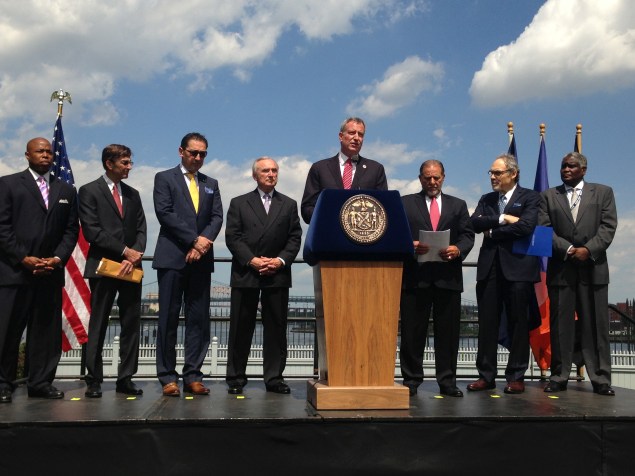 Mayor Bill de Blasio harkened back to the earlier days of his administration Friday, with a press conference to announcing a new commissioner. But even as the news came in late June, and at least one other key spot remains unfilled, the mayor said he was pleased with the pace of his staffing up.
"These are positions that are among the most challenging in the United States of America," Mr. de Blasio told the Observer. "You better damn well get it right."
The mayor tapped former NYPD Chief of Department Joe Esposito to lead the city's Office of Emergency Management, which works in tandem with the police and fire departments to respond to major disasters.
Outgoing Commissioner Joe Bruno, who was appointed by former Mayor Michael Bloomberg and is retiring, attended the press conference.
The appointment comes a month into hurricane season – with storms like Hurricane Sandy being one of the key focuses of the office. The mayor has also yet to appoint a Department of Buildings commissioner.
But of the way he's handled his appointments, the mayor said he "wouldn't trade it in for anything." He recalled asking advice of others who had made appointments.
"It's not about the day you name someone it's about choosing the best person," Mr. de Blasio said. "We were adamant that we were going to go about this methodically, because these decisions were for keeps."
The mayor also re-appointed Calvin Drayton as first deputy commissioner, and named Dr. Irwin Redlener an unpaid special advisor on emergency management and planning.
The mayor was criticized for the pace of his appointments, naming few people to key positions before taking office and then slowly beefing up his cabinet in the first few months. Many departments had interim leaders for months, including Parks and the Fire Department.
But Friday one of the mayor's first appointments, Police Commissioner Bill Bratton, and his most recent, FDNY Commissioner Daniel Nigro, were together to welcome their new OEM counterpart.
The three said they're set to coordinate closely – beginning with a breakfast on Monday.