Curator Rita de Alencar Pinto puts the ahrt in nail art. On an early summer evening, the Observer dropped in on Vanity Projects, her salon on Chrystie Street, a gem amid the fruit stalls and general smell of fish between Hester and Grand.
Born to an art dealer mother, the independent connoisseur organized pop-up polish booths at the MoMA PS1 before opening her Lower East Side space last year. A manicure museum, it eschews tawdry celebrity magazines for art books from David Hockney, Cindy Sherman, et al. A ledge of picture frames floats on one wall, eerie vignettes that double as a menu of all the crazy press-on nails they've painted on before.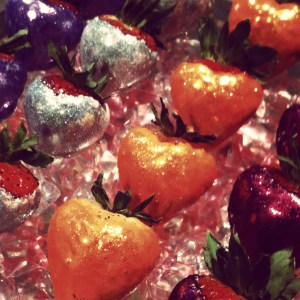 On this particular evening, blue-eyed, bow-tied waiters handed out pink Bellinis and glitter-dredged white chocolate strawberries from a bar laid with bead-sized crystals—a Swarovski manicure session was taking place. But while bedazzling our digits, we found ourselves distracted by the color on the walls.
"They're called moving paintings," said Miss Pinto, motioning to the two projections on the wall behind a row of nail artists. One, Mondrian-like, flickered, the bars changing color from marigold to coral to orange.
In curator mode, she told us that the late artist Jeremy Blake had created them.
"He walked into his apartment; his girlfriend had killed herself," Miss Pinto intoned, her eyes widening. "Days later he walked into the water at Rockaway and there was no trace of him, only the clothes he left on the beach… They're making a movie about it and Ryan Gosling is going to play him."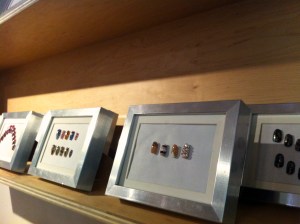 She added that Mr. Blake had done the interstitial light scenes that signified Adam Sandler's character's hallucinations in Punch Drunk Love.
"But I didn't like that movie," she said, waving a hand in the air, one encrusted nail twinkling in the light. "I just don't like it when he goes dark."
Visit Vanity Projects from 12 noon – 8 p.m. daily, by appointment on www.vanityprojectsnyc.com. Miss Pinto shall be screening Mr. Blake's video art until the middle of August. Polish jobs start at $30, upwards for their genuine Swarovski manicures.