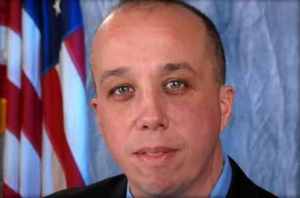 Bogota Mayor Tito Jackson, Jr. today went to the local police station and signed a complaint for assault against Sal Trotta, who the mayor says punched him in the face after the mayor voted.
"I cast my vote, he was waiting by my car, he shook my hand and wouldn't let go of my hand," Jackson told PolitickerNJ.
Some pushing and shoving ensued and Jackson says the man, who is the father of Tina Trotta, running against the mayor's slate of local candidates, punched him.
"No one should be harrassed or intimated," Jackson said. "I feel very strongly about this. Hopefully at the end of the day we show these people the door."
The elder Trotta is at least in his seventies.
"He didn't beat me up," Jackson said. "He punched me in the face. That's the ridiculousness of the other side. He took my phone out of my hand and punched me. I'm not hurt. My face is a little swollen."
Tina Trotta is one of three residents asking a federal judge "to order the borough to dig up a parking lot that's next to their homes at Oscar E. Olsen Park," according to the Bergen Record. "They also want dozens of trees that were felled to make way for blacktop to be replaced."
Salvatore Trotta later spoke with PolitickerNJ in an interview here.