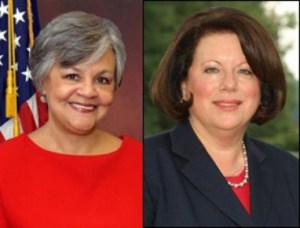 Most Garden State political observes would agree the state's most recent primary election produced few surprises.
Of course, if there was at least one, it was Assemblywoman Bonnie Watson Coleman's margin of victory in the CD 12 Democratic primary over state Sen. Linda Greenstein.
(Quick recap with unofficial election results numbers provided by the Associated Press: 35,457 Democrats voted in the primary to nominate a candidate to succeed outgoing U.S. Rep. Rush Holt (D-12). Coleman garnered 15,121 votes; Greenstein received 9,974; Assemblyman Upendra Chivukula garnered 7,775; and Andrew Zwicker received 2,587.)
In short, Watson Coleman's nearly 43 percent victory over Greenstein's 28 percent wasn't a squeaker.
So what pushed Watson Coleman over the edge to victory?
According to some New Jersey political analysts, it wasn't poor voter turnout in Greenstein-friendly Middlesex County and it wasn't second tier so-called spoiler candidates Chivukula and Zwicker who likely pulled a good amount of votes away from either Watson Coleman or Greenstein.
Instead, it was surprisingly strong suburban Mercer turnout.
"I'm a lot surprised," said Patrick Murray, director of Monmouth University Polling Institute, explaining "the tale of the tape" begins with the high voter turnout numbers in suburban Mercer County.
"These are monster votes that came out [of suburban Mercer]," he said.
Here's an excerpt from Murray's column on PolitickerNJ which describes how Watson Coleman "exceeded her needed vote counts – by a mile!":
Each candidate had a certain threshold they needed to achieve.  In order to squeak out a win, Linda Greenstein needed a minimum of 6,000 to 7,000 votes out of her home county of Middlesex, about 2,700 out of Mercer, 700 out of Union, and 400 out of Somerset.  She just reached those minimum levels.
…
"The real story here wasn't in the cities, though, but in the suburbs.  The suburban Mercer portion of this district turned out an astounding 12,000 voters yesterday.  Watson Coleman won a solid majority of these suburban voters despite the fact that Greenstein also represents, or has represented, a number of those towns in the legislature.
"To put it another way, my voter model assumed that about 11,000 voters would show up in Mercer and 8,000 in Middlesex.   It was actually 17,000 in Mercer – 55% over expectations – and 10,700 in Middlesex – 33% over expectations."
In other words, as one Democratic source told PolitickerNJ, "Mercer County did a fantastic job turning out voters."