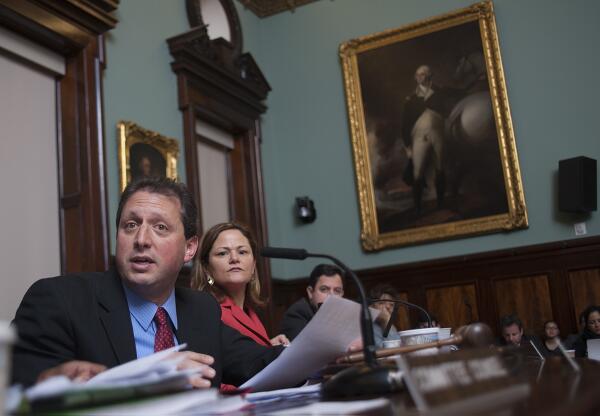 Councilman Brad Lander blasted the leaders of the Association Car Wash Owners in a hearing today over the group's opposition to a package of new regulations designed to combat environmental and labor abuses in the automobile cleaning industry.
"If the industry's good actors had come together to weed out the bad actors, we wouldn't have needed legislation," the Brooklyn councilman said. "That you formed a trade association in response to legislation and not pro-actively makes it hard to believe you're here in good faith."
Mr. Lander, a high-ranking member of the left-leaning body, attacked the group–made up of 85 car wash owners–for objecting to the proposed laws, which would require car washes to be licensed by the city, that they implement new systems for chemical disposal and take on a $300,000 bond to cover damage to cars. The bill sponsors–who include Mr. Lander and Council Speaker Melissa Mark-Viverito– and their union backers argued that the laws will give the city the power to be sure that the businesses are following labor laws and to prevent owners from paying for injuries to vehicles out of workers' wages and tips.
But car wash owners testified at the hearing that the rules–especially the bond–would put small operators out of business, and argued that the association could ensure and enforce standards of conduct in the industry. But Mr. Lander argued that the industry never made any efforts to regulate itself, and that the association only formed two years ago in reaction to the proposal of the legislation.
The pol also bashed the group's claim that the bond would be unobtainable for many struggling small business owners–and argued instead that it would only help properly operating washers.
"It's easier for someone who's got a track record to get a bond than someone who doesn't," said Mr. Lander. "The goal of this legislation is to help the good actors and beat up on the bad actors."
But the association's representatives claimed Mr. Lander was being unfair, and said they had not known of abuses in the industry prior to the proposal of the legislation.
"You're working on the assumption we were aware of all those things," said association member Stephen Bernard. "Why would a guy who's been in business and done all the right things, paid better than minimum and given sick time and vacation days when it wasn't required know about those things."
Mr. Lander answered with disbelief.
"You weren't aware of bad actors before legislation? You weren't aware of rampant wage theft?" Mr. Lander demanded. "Right now, we can't protect the members of our community and we need to be able to do that, and the industry has not stepped up."