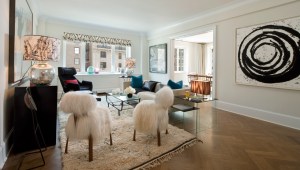 One wonders whether, sensing hostility among New Yorkers to increasing numbers of foreign investors in their midst, said investors might grow timid about broadcasting news of their purchases. (Whether absentee pied-à-terre owners can truly said to be "in our midst" remains up for debate.) Given the move-in regulations at the tony doorman buildings whose penthouses foreign buyers covet, though, it is unlikely that many are able to slip in under the cover of night.
The cover of dummy corporations? Well, that's another story. Brazilian interior designer Renata De Paula Seripieri recently used two—one in New York, one in Florida—plus a boutique law firm specializing in international clients, as intermediaries to pick up a condo at 530 Park Avenue for $9.69 million, according to city records.
Perhaps in view of the buyer's evident concern for privacy—our apologies, Ms. Seripieri—Classic Marketing's Rae Gilson, who runs the sales office at 530 Park, failed to answer our request for additional information about the unit. (Our best guest suggests that it's a four-bedroom on the 14th floor.) Word about the apartment—and really, the building in general—is likewise scarce through the usual public channels, stymieing would-be real estate gossips citywide. Bought up by Aby Rosen in 2010, 530 Park retains the much-lampooned white-brick facade it wore at the time of Mr. Rosen's acquisition. But the interiors, including those once occupied by Bianca Jagger in the form of a rent-stabilized pad, have been luxuriously overhauled.
Herringbone hardwood floors lend the renovated building a flavor reminiscent of Park Avenue's old-line luxury buildings, while custom cabinetry and chef-suitable kitchens ensure that that owners do not feel left out of the rush for modern, high-end sheen. There are marble baths and custom built-ins, a wood-paneled library with a billiards table and outdoors, a landscaped courtyard complete with French garden and reflecting pool.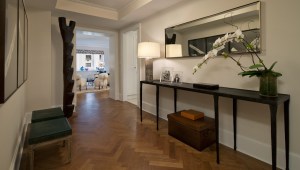 As for the specifics of Ms. Seripieri's new place, we only wish we could tell you more—we were even going to ask her lawyer, one-time president of the Ecuadorian American Association Andrew M. Klinger. But we figured he wouldn't be in the mood to talk. Still, given Ms. Seripieri's eye for interiors, we're going to guess it's quite a lovely home.