Americans are appalled over the false testimony of four consecutive IRS Commissioners, Lois Lerner's countless acts of malfeasance, and the IRS's targeting of conservative groups and specific individuals, among them Senator Grassley. The ultimate outrage came over the lame, intellectually insulting assertions that all of the most relevant emails have gone missing from multiple IRS computers at the same time.
Today, Judicial Watch found a federal judge who has the integrity and fortitude to seek Justice—and this isn't his first whack at the Department of Justice either. Enter Emmet G. Sullivan, United States District Judge for the District of Columbia. Mark July 10 in RED on your calendars.
Now, "Internal Revenue Service officials will have to explain to a federal judge July 10 why the tax agency didn't inform the court that Lois Lerner's emails had been lost," the Washington Examiner reports.
Earlier today, attorneys for Judicial Watch sought a courtroom status conference "as soon as possible to discuss the IRS's failure to fulfill its duties to this court under the law, as well as other ramifications of this lawsuit." It took Judge Sullivan just a few hours to grant the hearing.
Now the IRS will have to talk to Judge Sullivan about all this—and he has the power to do something about it.
Judge Sullivan is the judge who held federal prosecutors in contempt, dismissed an unjust indictment against a United States Senator, and publicly excoriated the Department of Justice. He also had the moral conviction, courage and gumption to appoint a special prosecutor to investigate the Justice Department and the individual prosecutors.
The IRS, the White House, and the DOJ have a lot of explaining to do (and some emails to locate). The Washington Examiner reports that "No mention was made in that production of the lost Lerner emails, even though the original Judicial Watch FOIA lawsuit filed in May 2013 specifically sought them. Judicial Watch further noted that 'although IRS had knowledge of the missing Lois Lerner emails and of the other IRS officials, it materially omitted any mention of the missing records' in an April 30 status update on its document production."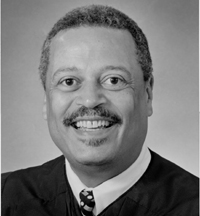 Emmet G. Sullivan, a graduate of Howard University and Howard Law who was appointed by President Clinton, is one of the heroes of my new book, Licensed to Lie: Exposing Corruption in the Department of Justice. Judge Sullivan ordered an independent investigation of the Department of Justice, which revealed its corrupted prosecution of United States Senator Ted Stevens.
In the book, I write, "An experienced trial judge, Sullivan was a distinguished man and widely held in high regard. He was no ordinary federal judge; he had worked hard all his life on several different courts and had been appointed by three presidents representing both political parties. . . . He had great respect for the rule of law and strived to apply it equally and fairly in all cases in his courtroom."
In the Stevens case, Judge Sullivan publicly upbraided the government lawyers before an overflow courtroom, "In nearly 25 years on the bench, I've never seen anything approaching the mishandling and misconduct that I've seen in this case. . . . When the government does not meet its obligations to turn over evidence, the system falters."
Judge Sullivan was taking the extraordinary step of appointing a special prosecutor. He chose highly respected DC attorney Henry Schuelke III to investigate the prosecutors for possible criminal charges. The judge ordered the department to preserve all of its files, electronic correspondence—everything—and cooperate fully in the investigation, including providing Schuelke access to investigative files and all witnesses.
Yesterday, Lois Lerner's troubles seemed so far away, goes the old song. Now it looks as though they're here to stay. . . .
Emmet G. Sullivan is one judge who knows a cover-up when he sees one.  He has seen this movie before. On July 10, someone should sell admission to the courtroom and set up concession booths outside.
Sidney Powell worked in the Department of Justice for 10 years and was lead counsel in more than 500 federal appeals. She served nine US Attorneys from both political parties and is the author of Licensed to Lie: Exposing Corruption in the Department of Justice.