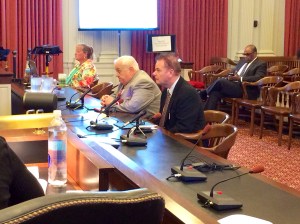 TRENTON – A Port Authority official appointed by Gov. Chris Christie to the agency's board of commissioners told lawmakers Tuesday he believes the George Washington Bridge lane closure controversy quickly turned into "a political football."
William "Pat" Schuber, who is providing testimony for a legislative committee investigating the administration over the lane closures,
"This whole issue had come … politically charged," Schuber told lawmakers when prodded by committee co-chairperson Sen. Loretta Weinberg about a letter she sent the commissioner days after the traffic jams ended.
"I saw this very quickly become a political football and, from my perspective, I didn't want [to be involved]," he said. "I looked at in a partisan way."
Weinberg expressed frustration in the weeks and months following the closures about the lack of response she received from Port Authority officials following the September traffic jams.
"I am disappointed in the authority's response, but on a personal level I am disappointed in your lack of advocacy on behalf of the residents of Bergen County," wrote Weinberg in a letter to Schuber on Sept. 19.
In a brief opening statement, Schuber told lawmakers he "had no involvement in or prior knowledge" of the September lane closures.
Christie appointed Schuber to the board in 2011. Prior to that, the Republican served as a former Bergen County executive and state assemblyman.
The Port Authority's executive director, Patrick Foye, was originally scheduled to testify before the panel today, but the appearance was postponed at the request of federal prosecutors who are investigating the lane closure incident, according to published reports.
Foye recently told a New York audience last month he was "proud" of his decision to reopen the lanes.