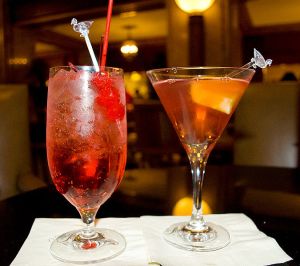 A Clinton Hill Mexican restaurant might be treading into dangerous territory with its recent "Ladies Only" menu.
Los Politos III  concocted a bar menu arranged according to gender, serving more alcoholic drinks for men, and lighter libations and fruiter flavors for ladies.
The ladies section includes "Glass of Wine," and "Kalhua & Cream," priced at $7, while the men's includes "Cucharacha Bomb" (tequila, red bull, rum, and Kalhua) and "El Toro" (vodka, gin, red bull, and lime), all for $10.
Manager Marcos Merino, who devised the menu for the restaurant, calls it a simple business strategy.
"It's just good business," he told the Observer. "I"ve always found women want drinks with less alcohol and men want drinks with more."
According to Mr. Merino, anyone can order off any section of the menu, regardless of gender. But he's found people have stuck to their gender section.
"It's fun and no one's complained so far," he added.
But one commenter with the username "Angry" sounded off on DNAInfo:
"So, women have less money and can handle less alcohol? Talk about sexist!"
Up to you to decide.