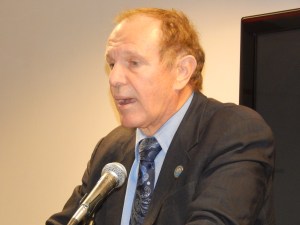 TRENTON – PolitickerNJ approached legislators this afternoon and asked them if they believe the respective political ascendancies of Gov. Chris Christie (president) and Senate President Steve Sweeney (D-3) could be stymied by either one caving on a full-fledged budget game of chicken.
Christie says he won't raise taxes on any condition and defies his critics to find a better solution than what he has on the table, namely dipping into state pension funds to find $2.5 billion to close a budget gap.
Sweeney says he won't renege on his promise to public sector unions to fund the state pension system, part of a deal he struck with the governor three years ago and proposes a millionaires' tax.
"I think both of them are going to have to compromise," state Sen. Ray Lesniak (D-20) told PolitickerNJ. "And I don't know about Gov Christie's political aspirations, but they certainly will not be helped if we have a trainwreck and don't secure public workers' pensions and at the same time do not provide the needed revenue streams to make this state work. And I know Senator Sweeney is trying his best to accomplish that. He has my full support."