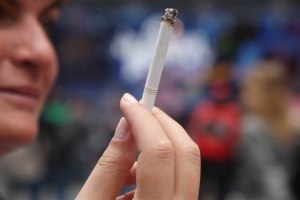 And when the smoke cleared at the Vaux building, at 372 Central Park West… well, it didn't. After a protracted battle with the condo board, residents opposed to a proposed smoking ban triumphed  when a vote on the issue earlier this week yielded 198 ballots in favor of the ban and 94 opposed, representing 48.8513 percent and 23.6826 percent, respectively, of the total unit common owner interest. In order to alter the bylaws, which the smoking ban would have required, 66.67 percent of total unit owners and common interest would have had to vote in favor of the ban.
"I'm extremely pleased," a relieved Candice Elliott told the Observer. "It was a nasty battle and we won." In recent months, Ms. Elliott and other anti-smoking ban residents had often felt marginalized—and in some cases steamrolled—by the board, which they felt was trying, with no small dose of self-righteousness, to intrude on private lives.
When last we checked in at the Vaux, the board appeared determined to wait until all of the building's residents voted to tally the ballots—or at least until they reached that 66.67 percent mark.
"I can tell you exactly why [the ban] failed," Ms. Elliott said. "The board thought that if they framed the issue in terms of smoking only, they would get enough support, because smoking is unpopular. But people saw that it was not merely a smoking issue, but one of an activist board whose members saw themselves as being on the vanguard of this anti-smoking movement." (The board had previously arranged for representatives from the Coalition for a Smoke Free City and the Department of Public Health to speak to apartment owners, while denying the same pulpit to a speaker from the group Citizens Lobbying Against Smoker Harassment.)
Ms. Elliott, together with four other residents, previously submitted a compromise agreement proposing, among other things, that responsibility for preventing smoke from migrating throughout the building would fall upon smokers, which, she said, the board rejected out of hand. At the meeting on Monday, she said, "People were allowed to speak. But everyone had already made up their minds. The board never had any intention of listening to what the residents had to say."
Whether or not that is true, it likely wouldn't have done the board any good to wait for additional ballots; to reach the required percentage, virtually every non-voter would have had to land in favor of the ban. The issue, of course, can always be raised afresh.
But for now, anybody got a light?