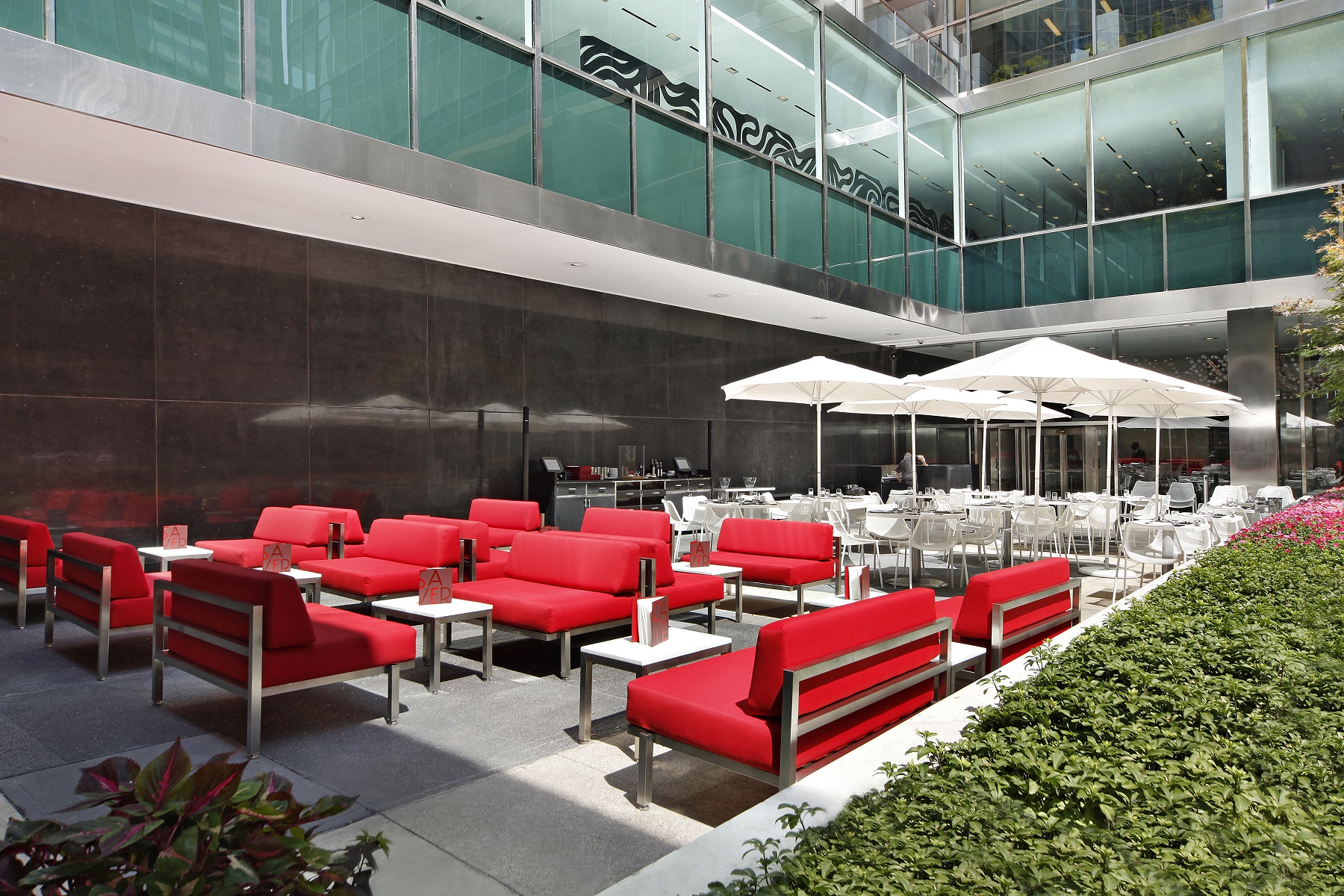 With its bright red couches, large white umbrellas and refreshing cocktails, the garden at Casa Lever — perhaps New York's artiest restaurants — promises to be one of this summer's chicest al fresco escapes from the bustling city.
The lively and sophisticated dining area and bar sit in the courtyard of the famed Lever House — architect Gordon Bunshaft's international-style, glass skyscraper on Park Avenue — which offers a stark juxtaposition to the authentic Milanese cuisine. The menu offers traditional dishes like vitello tonnato and bolognese, in addition to lighter options like fried calamari and grissini.
Diners look into the lobby of the building, which houses rotating exhibitions from the Lever House Art Collection, a series of works created for the space by artists such as Jeff Koons, Peter Wagner and Tom Sachs. The current exhibit belongs to Urs Fischer, whose installation features mirrored boxes spread throughout the space and printed with photographs various common objects.
Casa Lever itself boasts impressive art, including a recently expanded collection of Andy Warhol silk screens. The collection gained 13 pieces in May — including portraits of Douglas Cramer, Lynn Wyatt and the Shah of Iran — increasing the restaurant's number of Warhols to a total of 32.
With such a sophisticated collection of art, one may be surprised to learn that even this spot has gotten into the World Cup spirit. The outdoor lounge will stream the games for spectators looking to enjoy the matches in a classier setting than a dive bar. And though the bar may be more well known for its elaborate cocktails, the menu also presents a variety of more appropriate, international beers and finger foods for fans.
The garden is open from 11:45 am to 11 pm from lunch, aperitivo and dinner from Monday to Saturday and is closed on Sunday.