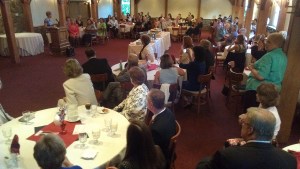 Dr. Alieta Eck of Somerset tonight launched her women's coalition tonight with a fundraiser at the Cranbury Inn in Cranbury featuring some big names in the Republican Party.
Eck is running in the November general election for Congress in the 12th District against Assemblywoman Bonnie Watson Coleman (D-15).
Earlier this month in their parties' primaries, Eck won the GOP nod while Watson Coleman received the support of Democrats.
Those in attendance at Eck's fundraiser tonight included former Governor Christie Todd Whitman, Assemblwoman Donna Simon (R-16), Assemblywoman Nancy Munoz (R-21), former state Sen. Pete Inverso.
Also sighted at the $100 per-head event were GOP operatives Bill Palatucci and Candy Straight.