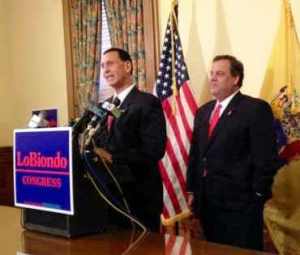 By CHASE BRUSH
TRENTON – In a CD2 race where a relatively unschooled Bill Hughes, Jr., has opted to take on 20-year incumbent U.S. Rep. Frank LoBiondo, few would contest the obvious: that Hughes' chances aren't very good.
"This is really Lobiondo's race to lose," Patrick Murray, director of the Monmouth University Polling Institute, told PolitickerNJ over the phone last week. "[LoBiondo] has the name recognition, he has good standing among his constituents — all those this stack the deck for this particular race."
Not to mention the conservative leanings of the district itself: where 115,923 Democrats outnumber CD2's 109,429 Republicans, but 195,665 independents have the habit of leaning Republican for "LoBo."
The son of former congressman Bill Hughes, Hughes, Jr., announced his bid for the congressional seat back in October. LoBiondo, meanwhile, has held the seat in since 1994, when he replaced Hughes, Sr. after the former congressman decided not to run for re-election.
But Hughes created some internal party agitation when his announcement came before state Sen. and area favorite Jeff Van Drew (D-1) made his own decision about running. Democrats have long-rumored Van Drew– one of 40 senators in a 26-member majority in an influential position as a top member of the powerful South Jersey Democratic Delegation in Trenton — as a future congressman and likely LoBiondo successor.
The circumstances leave a few questions unanswered.
The first concerns LoBiondo's retirement. There's some speculation that the 68-year-old LoBiondo may soon move on to other pastures. When exactly that will be is uncertain (the Republican once ran on the promise that he'd retire after six terms), but some think it could be as early as 2016.
The second, naturally, concerns LoBiondo's successor. If Hughes, Jr., does fail to clinch an election win against the Republican in November, that will leave LoBiondo open for another challenge in 2016, a year that's expected to treat Democrats in Washington more favorably than the current. Some believe Hughes' current campaign is just a warm-up for a run in 2016, when he'll have something to show Democratic leaders that proves his viability.
And the third: If LoBiondo decides to retire as early as 2016 (which some think he might), that will leave the door open for Hughes, who will have laid the groundwork for it this year, to make another go at the seat. But it will also leave the door open for other challengers, most notably Van Drew.
According to Murray, November's campaign against LoBiondo will help Hughes gain traction for a run in 2016.
"A good showing by Hughes would set him up as a formidable nominee, knowing that an open seat would be more likely for someone like Jeff Van Drew to jump into the race, who is known across parties as a vote-getter," Murray said.
A South Jersey Democratic Party source told PolitickerNJ that Hughes needs to get within ten points to make a statement.
For the moment, however, neither candidate is willing to look beyond the campaign at hand.
In step with his aggressive efforts to will a contest in the 2nd, the Democrat last week issued the endorsements of former U.S. Rep. Patrick Kennedy (now a resident of Brigantine) and the United Auto Workers.
And in a phone interview with PolitickerNJ last week, Hughes condemned the "election year gimmickcry" of LoBiondo's campaign and criticized his neglect of South Jersey's high unemployment rate, which now stands at 12.7 percent.
"[LoBiondo] has had a free ride," he said. "Come November, the people of South Jersey are going to get a pic of the real Frank LoBiondo, and I don't not believe he is going to like what he's going to see.
"I look forward to working with Van Drew as we win this race," Hughes added.
Will he run again in 2016?
"That's two years from now," he said. "Let's focus on this race."
For his part, LoBiondo pointed to recent major endorsements as proof-positive that his re-election is near certain.
He's always had strong labor support. Atlantic/Cape May Central Labor Council President Roy Foster – who last year helped put Atlantic City Mayor Don Guardian in office – is tight with the congressman.
"They don't make these endorsements based on the color shirt you wear or how you comb your hair. They're based on a specific set of criteria that's pretty objective, whether it's business or labor," he said, referring to endorsements by the American Federation of Labor and Congress of Industrial Organizations (AFL-CIO) and the U.S. Chamber of Commerce, which he received last week.