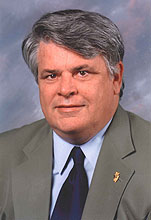 TRENTON – Sen. Jim Holzapfel (R-10) said he doesn't see Democrats being able to get any traction with the carpetbagger storyline in CD3.
Holzapfel's favored candidate, businessman Tom MacArthur, soundly defeated movement conservative Steve Lonegan in the June 3rd Republican Primary.
But MacArthur, a former mayor of Randolph in North Jersey, does not have longstanding ties to the district, and Democratic candidate Aimee Belgard, a Burlington County freeholder, wants to exploit that fact.
Good luck, says Holzapfel.
"I don't think it's a problem," said the senator from Brick. "He has a house in Toms River."
Still, Holzapfel admitted he sees a race between MacArthur and Belgard in the November general.
"People assume it's a Republican district but if you look at it, it's pretty close in terms of the number of registered Democrats and Republicans," the senator said. "I'm not an expert on Burlington, but I know he [MacArthur] will do very well in the Ocean portion of the district. He ran a very aggressive campaign in the primary. He spent quite a bit of money and was on radio and TV almost constantly. I like him becasue he's a successful businessman who can balance a budget."