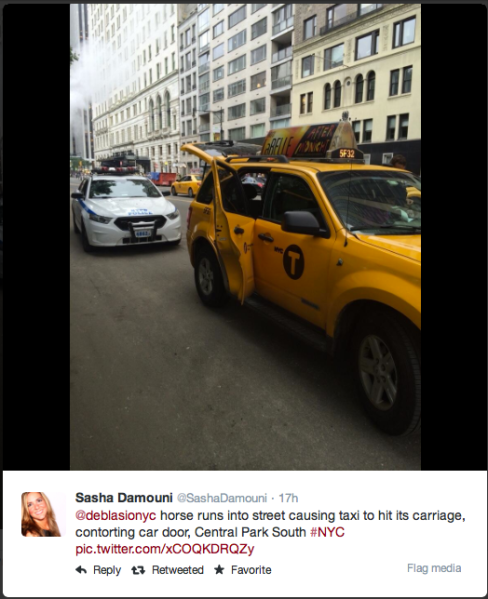 Yesterday evening, a rogue pony named Pumpkin ditched his bridle and dashed through Central Park—straight into an open taxi door, NBC New York reported.
While all the carriage horses were in line along 55th Street at around 5:45 p.m., Pumpkin's bridle and reins got caught on the horse carriage in front of him. Before his driver had a chance to reattach it, Pumpkin was up and galloping.
"He ran up to the park, and at that point, it's pretty predictable what's going to happen. He's going to run the route he usually takes," Christina Hansen, another horse carriage driver, told NBC.
And the 7-year-old Pumpkin did just that, running his entire route, the equivalent of the Kentucky Derby (he could have taken California Chrome), according to Ms. Hansen.
Pumpkin finally came to a slow trot near the Central Park Zoo, but when a brave bicyclist jumped into the carriage to try and stop him, Pumpkin went haywire and sped straight into an open taxi door on Central Park South.
NYCLASS, the group that is against the use of Central Park carriage horses, used this foal fiasco as their latest platform. They argued that "Carriage horses and busy New York City streets simply don't mix… It's time to retire the carriage horses and replace them with something that doesn't spook or dart dangerously through traffic and pedestrians," according to Gothamist.
Mayor de Blasio, who has pledged to rid Central Park of horse-drawn carriages, issued a statement through spokesperson Wiley Norvell: "We're considering a range of options that would move the horses off our streets, safeguard the animals and protect the livelihoods of the men and women who provide carriage rides."
Better Central Park than on a busy highway, though.