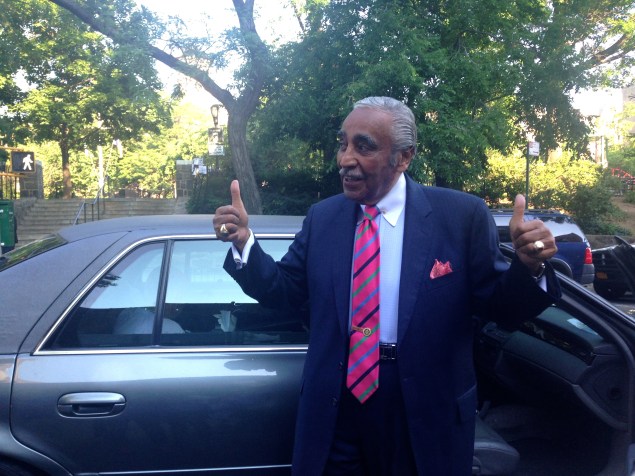 Dapper as usual–with his hair slicked back, a navy blue pinstripe suit and a loud pink tie–Congressman Charlie Rangel arrived at 7:40 in the morning at the Fort Washington Avenue and 181 Street Station to greet voters on primary day. After months of campaigning, his fate, and that of his top rival, State Senator Adriano Espaillat, will be decided today in the Democratic primary of the 13th Congressional District.
When asked by reporters if this had been the toughest race of his life, Mr. Rangel did not hesitate to answer. "I would say that, yes, I would say that."
Mr. Rangel, however, appeared to be in high spirits. "God has given us a beautiful day, we hope that people recognize how many people fought and died for the right to vote" Mr. Rangel said. "I hope that they also look at all the candidates running for the 13th Congressional District. I'm satisfied that with a good look at the candidates they will come up with someone who has the experience and knows what has to be done down there."
Mr. Rangel, in the company of long-time supporter Manhattan Borough President Gale Brewer, spent more than an hour greeting people passing by, shaking hands and smiling with his two thumbs up. "Good morning, Buenos días" he said with his raspy voice, which revealed no trace of exhaustion. Not even an Espaillat truck with flags and men screaming "good-bye, Charlie" shook the congressmen. He smiled and wished them a good day as well.
His message was positive but cautious. "Even though I feel very good about the way things are going, the final vote has not been cast and that's what really counts," Mr. Rangel confided to the press in what was just his first appearance on an action-packed day that will run late into the night.
The polls in the 13th Congressional District, which spans ppper Manhattan and the Bronx, are open from 6 am to 9 pm. Pastor Pastor Mike Walrond and Bronx activist Yolanda Garcia are also running.