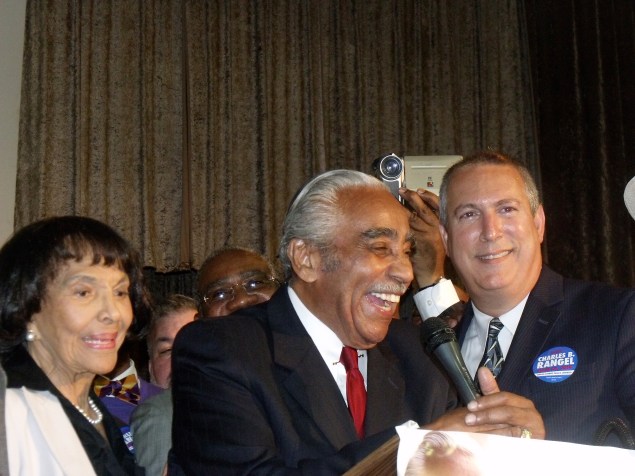 Congressman Charlie Rangel didn't deliver prepared remarks.
In fact, when he began speaking to the crowd gathered at his primary night party in East Harlem, it was unclear what speech he would be giving — he joined the crowd earlier than his advisors recommended, he admitted. But Mr. Rangel reveled in the spotlight, shushing other politicos on stage and going off the cuff for somewhere close to 45 minutes, wondering aloud whether to declare himself the winner, until finally NY1 called the race on a television screen behind him.
"The chairman has won!" Congressman Gregory Meeks shouted over and over.
It was then, finally, that Mr. Rangel declared victory over his main opponent, State Senator Adriano Espaillat — even though Mr. Espaillat wouldn't concede himself. Mr. Rangel, it seems, will have the chance to leave on his own terms — he has vowed to retire after one last tour in Congress.
"This was your victory. This is your congressman. And you can rest assured that what I'll do is be thinking about you and bringing those resources home," Mr. Rangel promised the crowd in the gymnasium at the Taino Towers.
Mr. Rangel currently leads Mr. Espaillat by about 4 percent with almost 100 percent of precincts reporting, according to the Associated Press.
But when he first took the stage, 20 percent of the precincts had yet to turn in results.
"We don't need a whole lot of numbers for me to tell you how good we feel. How proud we feel that we were able to bring together people and cultures from all over the district," Mr. Rangel said.
Before taking the stage, he'd been upstairs "sweating it out" while his supporters were downstairs doing the same.
"I said, 'Hey, let's sweat this one out together,'" he said.
But as time drew on, Mr. Rangel seemed eager to claim victory. He asked reporters — while his speech was carried live — for the most recent vote tallies. He did election math on stage, asking which precincts had yet to respond.
"Is it time to make some announcement?" Mr. Rangel asked at one point. "What should I do? Let them go home with a victory party or tell to wait until the results are in?"
Then he shouted out his growing vote percentages as he heard them, beckoning them to go higher. "Do I hear 50? Do I hear 51? Do I hear 52?" He asked at which point to accept victory, or what else he should do — "just mumble?"
But cooler heads prevailed, at least for a while. "Okaaay," he said, almost like he'd been told to wait for Christmas morning. "Wait, everyone."
But waiting didn't stop Mr. Rangel from treating his not-yet-victory speech like a victory speech, even remarking on his opponents.
"I should congratulate Adriano for doing the best with what he had to work with," he said.
On Pastor Mike Walrond: "I want to take this opportunity to wish Rev. Walrond whatever spiritual goals he wanted to achieve." On Yolanda Garcia: "She didn't have a lot to say but she sure didn't spoil anything."
For his part, Pastor Walrond did concede Wednesday night. He said "there's healing that needs to be done."
"We were the campaign that stayed above the divisiveness, that was about the issues," he said, and thanked his his campaign workers, family, and congregation at First Corinthian Baptist Church.
But he bemoaned low turnout. "Less than 50,000 votes in a district this large is nothing to celebrate."
Though it had the feel of a one-man show, Rangel wasn't alone. His wife Alma by his side, he also called to the microphone high-profile supporters, including Public Advocate Tish James, Borough President Gale Brewer, Councilwoman Inez Dickens, and most prominent of all, former Mayor David Dinkins.
"The only person happier than Charlie and Alma is me," Dinkins said. "I am so pleased — not surprised, but very pleased."
And he joked about the future opening of the seat: "Now is as good a time as any to make my announcement: I'm running in 2016."
Will Bredderman contributed reporting.