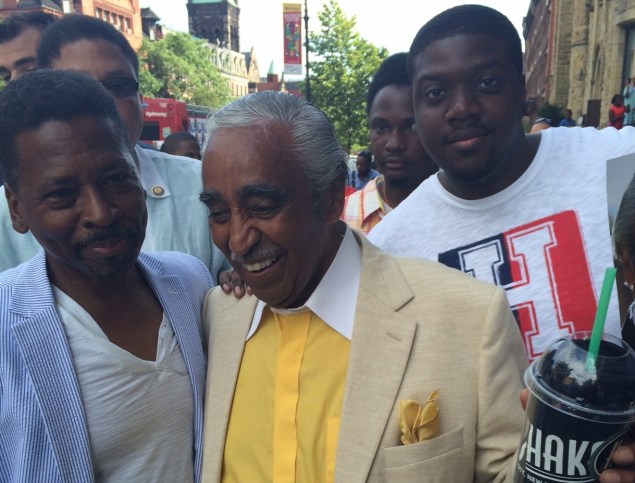 Congressman Charlie Rangel wasn't the only winner in the Democratic primary race of the 13th Congressional District. Rapper Fireboy LD, who composed the official campaign song "Vote For Rangel" also received some attention.
The hip-hop song has gone viral on social media and has been watched more than 8,000 times on YouTube since June 21. Fireboy LD even performed it on stage at Mr. Rangel's election night party — getting the crowd pumped up before Mr. Rangel took the stage to entertain the crowd himself until he could declare victory.
Contacted by the Observer, 24 year-old Fireboy LD, whose real name is Londel Davis III and whose father is a close adviser to Mr. Rangel, couldn't conceal his excitement.
"I feel like the relationship between music and politics, right now, is brand new. I feel like I am the voice of hip-hop and politics. I have opened a new lane in our generation for the younger generations, for the children, to be able to like politics and express politics through hip-hop, through music, through culture. And that is really what I'm trying to do. I want it to be hip-hop and politics as one," Mr. Davis said.
He added, "I was opening a lane for me to make music for peoples' campaigns and also for the youth, the kids to deal with politics as well, to get into it, because not a lot of children know. I want to be the voice of the young people for politics."
When asked by the Observer about his inspirations, Mr. Davis said: "Charlie Rangel has been a big public figure of Harlem, the voice of Harlem."
But despite Mr. Rangel's large presence in the community, Mr. Davis still did some research before writing. "To refresh a couple of things I did a little homework on him, made sure everything that I knew was true, the details," he said.
The hip-hop song, which nobody would rapidly connect with an 84-year-old man, is quite autobiographical. The lyrics include highlights of Mr. Rangel's past — his humble origins, his participation in the Korean War and his graduation from New York University. It also describes Mr. Rangel as "superfly:"
"Charlie Rangel/Stand-up guy/If you're voting for Charlie put your hand up high/Yeah, suit and tie/He's superfly/If you're a Democrat/Yeah, that's the guy…"
Mr. Davis is already thinking about the future. First up, he would love to compose a single for a possible Hillary Clinton presidential campaign. "I am so excited, I would love to be a part of it," he told the Observer. "I feel like she has a chance to win, I would love to campaign for her. If anything I want to be a part of it, a part of history."
And then…maybe politics. Why not? "My first love is music but I love politics too so maybe when I get a little older I might think about it," he said.
You can watch "Vote for Rangel" below:
[youtube https://www.youtube.com/watch?v=hqPq_2vIt_c&w=560&h=315]