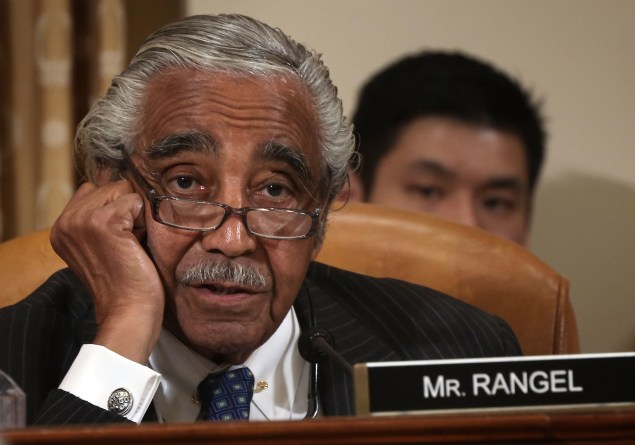 Congressman Charlie Rangel may have repeatedly invoked his relationship President Barack Obama throughout his re-election campaign, but the Harlem lawmaker said today he never expected the president's endorsement.
President Barack Obama chose yesterday to not endorse Mr. Rangel or any candidate in the 13th Congressional district race, a move that many saw as a blow to one of the most senior members of Congress. Mr. Rangel, however, was unnerved.
"I never expected it, I didn't ask for it and I'm running not for presidential endorsements. I running for voters' endorsement," Mr. Rangel told the Observer at a campaign event in Manhattan today. "That's all I ever ran for since I've been in public office. Everyone likes to be liked and people can say it with as much strength or lack of it as they want but I feel very confident I've done my job and done it well."
Mr. Rangel's top rival, State Senator Adriano Espaillat, tweaked Mr. Rangel for losing out on Mr. Obama's endorsement. The Rangel campaign dismissed the attack earlier today, pointing to the amount of Washington support the congressman has already amassed–ex-President Bill Clinton and the city's congressional delegation, for example–and Mr. Obama's past avoidance of Democratic primaries, though Mr. Obama endorsed in several recent congressional races.
The lack of a presidential endorsement is significant in the increasingly bitter Democratic primary because Mr. Rangel used Mr. Obama as a rationale to seek a final term. The 84-year-old has argued, again and again, that he needs to remain in office to help Mr. Obama carry out his agenda until 2016, while Mr. Espaillat has promised to cultivate his own ties to the White House.
Mr. Rangel, once more, mocked Mr. Espaillat's relative lack of Washington experience.
"I don't even know if he knows where the president lives," Mr. Rangel said.
View a video of the confrontation below, courtesy of NY True:
[vimeo 98963718 w=500 h=281]