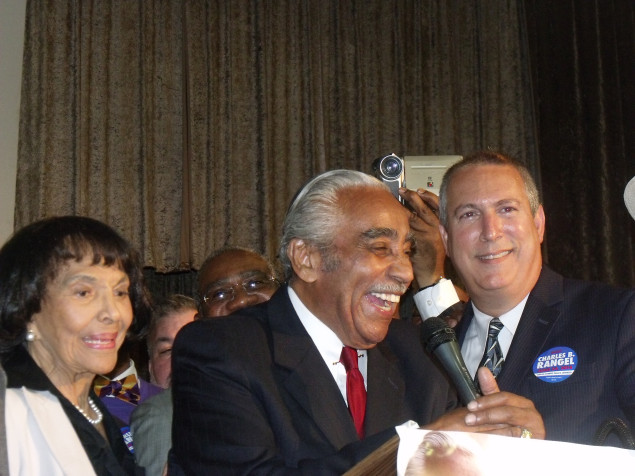 2014, for the starry-eyed backers of State Senator Adriano Espaillat, was supposed to be different.
The speaker of the City Council and the city comptroller were in their corner. Influential labor unions like the Hotel Trades Council lent their fierce get-out-the-vote machine. Mayor Bill de Blasio snubbed Congressman Charlie Rangel, the four decade incumbent, and endorsed no one.
But last night showed that Mr. Rangel, on the verge of winning yet another term in Washington, could not be dismissed. While Mr. Espaillat undoubtedly entered Election Day with advantages he sorely lacked two years ago when he almost unseated the incumbent, Mr. Rangel showed that a bolstered campaign apparatus coupled with renewed physical health was enough to stave off a fierce challenge from the state senator.
"He must have had a better ground game," said Ken Sherrill, a professor emeritus at Hunter College. "I think this kind of race is really door to door, building by building, block by block organizing, and I think particularly in the case of a relatively low income district, you need good, old-fashioned organizing. When push came to shove, Charlie Rangel out-organized Adriano Espaillat."
The race for the 13th Congressional District is not over. Mr. Espaillat, according to unofficial tallies, trails by about 2,000 votes and absentee and affidavit ballots still need to be counted. Mr. Espaillat, who declined to comment for this story, has not conceded the race, though many observers believe it is highly unlikely he will come back to win.
Mr. Rangel quietly entered the 2014 race with a campaign that sources described as a marked improvement over the 2012 operation. Traditional consultants, used to tailoring campaigns that succeeded decades ago, were shed. In came Neal Kwatra, the well-regarded founder of Metropolitan Public Strategies, and Mercury Public Affairs, a top consulting and lobbying firm.
Mr. Kwatra helped turn the political arm of the HTC into a vaunted get-out-the-vote machine–ironically, his old union sided with Mr. Espaillat–and was able to win overwhelmingly in East Harlem, a noted battleground in the district where local elected officials, including Council Speaker Melissa Mark-Viverito, endorsed Mr. Espaillat.
Sources close to the Rangel campaign describe the 2012 effort as a "ragtag affair" that was caught off guard by a strong insurgent. There was a limited digital presence–Facebook and Twitter accounts were rarely updated–and fundraising emails, which deluged supporters this time around, were in short supply.
The old campaign also put far less emphasis on a sophisticated field operation. A source close to the Rangel campaign recalled a January meeting where new operatives asked veterans like senior adviser Charlie King what the 2012 campaign infrastructure and field operation looked like.
"Charlie King turns to face Inez Dickens [a Harlem councilwoman]. Inez said, 'I was the field program.' If Adriano was going to be stronger, we needed to run a real campaign. We couldn't have people like Inez Dickens in charge of voter turnout," the source said.
All of this allowed Mr. Rangel hold onto his central Harlem base and win enough votes in Manhattan and the Bronx–where the Bronx Democratic machine was working overtime for Mr. Espaillat–to pad his lead. The majority Latino district, redrawn two years ago, was expected by many to finally elect a Latino lawmaker.
"They kept voter support despite defections from politicians and unions from the last campaign," said Democratic consultant Jerry Skurnik. "Basically it looks like things didn't really change that much from 2012. A lot of people, frankly, including me, thought they would."
Polls showed Mr. Rangel way ahead–the margin separating the top two contenders turned out to be far narrower–but the Rangel camp was just as heartened by Mr. Espaillat's relative lack of name recognition in the district spanning upper Manhattan and the Bronx, despite his near success two years ago.
Mr. Espaillat's camp spent much time in the heavily Latino neighborhood of East Harlem and still was crushed. Early returns show Puerto Rican voters still favored Mr. Rangel, who is half Puerto Rican, and Mr. Espaillat was not able to craft a pan-Hispanic coalition with Ms. Mark-Viverito's help.
Campaign operatives said Mr. Rangel, an African-American who presided over the base of black political power in America, was always reluctant to discuss his Puerto Rican heritage. But he permitted his campaign to play it up more in this contest, allowing surrogates like rapper Frankie Cutlass, an influential figure in the Puerto Rican community, to stump for him.
"Charlie allowed the campaign embrace his Puerto Rican heritage," a campaign source said. "He was constantly campaigning in El Barrio."
Mr. Rangel, just as importantly, was physically able to campaign. Though aides privately admitted he was never a fan of the traditional subway meet-and-greet, Mr. Rangel ambled with ease without a walker after recovering from a spinal infection that hobbled him throughout 2012.
In a radio interview today, Mr. Rangel chalked up the probable win to health.
"Let me tell you, it was no secret and I guess I never wanted anyone to feel sorry for me but I was in really in bad shape during the last election and that's a hell of a thing for a politician to have to admit," Mr. Rangel said