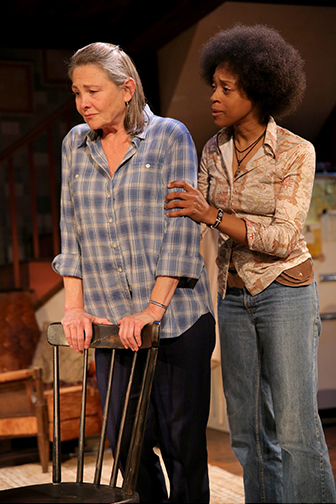 Cherry Jones is the only reason to see When We Were Young and Unafraid, a load of time-wasting tedium by the Manhattan Theatre Club at City Center. A critics' darling for good reason, Ms. Jones rarely makes a wrong move. Even in the worst production of The Glass Menagerie I've ever seen, misdirected by John Tiffany to wave her arms like a spastic pelican and shriek annoyingly in a phony Southern accent, she emerged with some of her dignity intact. Now, I'm happy to say, she's back to business as usual, in the theater where she originated her award-winning role as Sister Aloysius in Doubt, making each sentence real and truthful. This time it's the play that is dead on arrival.
The time of When We Were Young and Unafraid, for reasons that make no more sense than its title, is 1972. The setting: another great lived-in scenic design by the multitalented Scott Pask (Casa Valentina, The Book of Mormon), this time a rustic bed-and-breakfast off the coast of Seattle, owned and operated by a warm, no-nonsense dispenser of wisdom named Agnes, who serves coffee and care to her guests while doubling as an illegal abortionist. (It's a perfect role for Cherry Jones, because she inherited the calming Earth mother image Colleen Dewhurst once polished to perfection.) Agnes makes a flawless choice to run a safe house for every troubled girl who comes to the inn for help, though she doesn't have much luck with her own 16-year-old daughter Penny (Morgan Saylor). Penny is one of those early feminists who just discovered Germaine Greer and is determined to make out with the head of the high school football team. 
---

WHEN WE WERE YOUNG AND UNAFRAID
—
Written by: Sarah Treem
Directed by: Pam MacKinnon
Starring: Cherry Jones, Zoe Kazan and Morgan Saylor
Running time: 140 min.

---
Into this salud sanctorum in the woods comes Mary Anne (Zoe Kazan), a battered pregnant woman with a bloody gash over one eye that requires stitches, and Hannah (Cherise Boothe), a militant black lesbian who belongs to a cult, repairs furniture, tightens screws and rudely offers instant, unsolicited judgments on everyone. The only man on the premises is Paul (Patch Darragh), a songwriter with no visible talent whatsoever. These invaders would rattle anyone else, especially when nobody shows any interest in leaving, but Agnes takes it all in stride, opening cans and baking muffins. Mary Anne rants and shakes and swigs down whiskey with her forbidden chain-smoking. Penny rebels against every hint of rational advice. Hannah comes and goes through the kitchen window, trying to seduce Agnes into bed. The peripheral characters are all driven by passion to a painful form of misery, while Agnes remains at control center.
Cherry Jones seems to be acting in a totally different play. The organized voice of calm in the middle of so much chaos, she's oblivious to the hysterics around her. She's an unwavering eye in the center of every storm, with a dedication to the talisman that there is no tragedy so fatal that it cannot be solved by another hot muffin. You eventually start questioning her sanity. The writing by playwright Sarah Treem is so awkward, the characters so underdeveloped, and the point of the play so baffling and elusive that you wonder why Manhattan Theatre Club ever chose to produce it in the first place.  
Everyone in the play has a secret, but when the secrets spill out in time for a final blackout, they seem as silly as the people who reveal them. Will Mary Anne go back to the abusive man who is waiting to kill her? Will Penny get to the prom on time? Will Paul ever shut up and stop singing out of tune? When he breaks down and confesses, "I'm not an interesting man. I don't speak any foreign languages. I've never even kissed a girl in the rain," you can hardly blame Agnes for eventually making the decision to become a lesbian at last.
The thing I like best about Cherry Jones is her relaxation. Through her acting, the cosmos seems to be coming at us in sections. It's warm, tough and effortless, and it shines through the mediocrity of the writing. Unfortunately, the play that showcases it is typical of so much of the dross New York's not-for-profit companies with subscription bases are producing off-Broadway these days in the hope of attracting rave reviews from offbeat critics who hate traditional theater (especially if they work for The New York Times). I'm thinking of The Jacksonian and The Commons of Pensacola, among others. But sometimes the delusions extend to Broadway. How else do you explain a disaster such as Will Eno's The Realistic Joneses? Like that bomb crammed with endless talk that says nothing, When We Were Young and Unafraid is not really a play.  It's a scene-study acting class at the Neighborhood Playhouse. ν