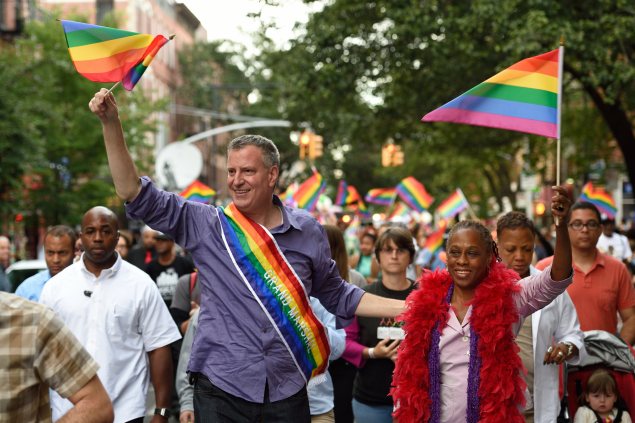 At a a Gracie Mansion reception ahead of this weekend's gay pride festivities, Chirlane McCray recalled her time as a card-carrying lesbian.
Ms. McCray, wife of Mayor Bill de Blasio, told guests about her arrival to New York in the late 1970s when she was introduced to "gay NYC," and attended meetings of the Salsa Soul Sisters – a group for lesbians of color.
And though she may be married to a man, Ms. McCray said she's a lifetime member – an honor bestowed after she wrote a now infamous story in Essence magazine titled "I Am a Lesbian."
"I want you to know that the Sisters of Salsa Soul stamped my membership card forever. What a celebration we had at that meeting," she said, according to a transcript provided by the mayor's office.
Later in the reception, Mr. de Blasio, who is often effusive in his adoration of Ms. McCray, recalled meeting his wife – violins playing, thunderbolts flying, angels singing.
"I did not ask her for an identification card," he noted. "I just fell in love with her. Guess what, it all worked out."
Neither the mayor nor Ms. McCray said anything more about how Ms. McCray went from a member of the Salsa Soul Sisters to his bride at a 1994 Prospect Park ceremony.
But Ms. McCray did expound on her time with the Salsa Soul Sisters, whom she referred to as her "first New York family." She recalled how the group fostered networking – and how skeptical it makes her when people claim diverse hires are hard to come by.
"Thanks to a network that was based in a church basement, in the Village, in the 70's, I could find diversity. So I know boards and big businesses with access to a world wide web of contacts can find it now," she said.
In the 35 years since she came to the city, Ms. McCray said things had improved greatly for the LGBT community – but there was more to do.
"And we are warriors. We don't stop fighting until the victory is won. So that means securing marriage equality in every state in the country. That means speaking out against bigotry whenever and wherever it rears its ugly head. And that means never forgetting, not even for a second, that we are all members of one race—the human race," she said.
Mr. de Blasio said he and his family were excited to attend the pride parade this weekend, and also pressed for continued progress on gay marriage.
"Marriage equality has to be everywhere in the United States of America – period," he said.