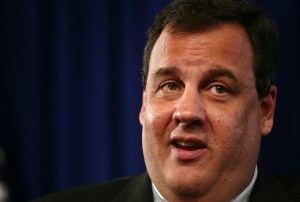 TRENTON – As expected, Gov. Chris Christie burnished his veto pen today to carve his own version of the budget submitted by the Democrats with the excise of $1 billion from the Dems' millionare-tax reliant budget.
Christie's version reaches into the pension system to close a budget gap, leaving him with a $32.5 billion budget following his line items.
Senate President Steve Sweeney (D-3) was unimpressed with the governor's decision, which hinged on reducing a scheduled $2.25 billion payment to the public employee pension system to $681 million.
"Democrats presented a budget to the governor that met our obligations while not placing the burden on working people," Sweeney said in response to the governor's line-item. "Our budget was a fiscally responsible plan that would have honored the state's commitments and increased funding for critical services. It was the right thing to do for all New Jerseyans.
"We are obviously disappointed," Sweeney added, "but the governor's actions will not prevent us from continuing to push for policies and programs that keep our commitments to retirees and middle class New Jersey families."
Assembly Speaker Vincent Prieto (D-32) likewise complained about Christie's budget vetoes:
"The governor's failure to fully fund our pension obligation will push New Jersey closer toward fiscal disaster, and his rejection of tax relief for working families and continued support for tax breaks for millionaires is once again disappointing," the speaker said. "The ramifications will unfortunately be adversely felt by taxpayers for years to come."