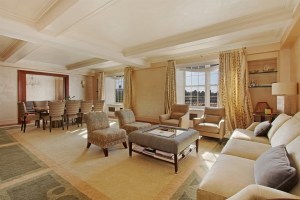 There is something rather impersonal about the tenth-floor four-bedroom that just sold to unknown buyers for $12.5 million at 995 Fifth Avenue. Chairs and sofas that appear in the listing held by Corcoran's Tamir Shamesh look institutional, overstuffed or practically unused, and are clothed in drab, unattractive patterns. There are large swaths of carpeting in dull olive, brass and sea foam that would not be out of place in mid-range hotels catering to travelers with badly-delayed flights. In combination with the apartment's marble, molding and high, coffered ceilings, the overall effect is of a very opulent conference room.
This all seems fitting, though, given the well-cloaked parties involved in the deal. Acting as a Trustee of the PRAE (sounds kind of scary; your guess is as good as ours), the Wyoming-based Jackson Hole Trust Company—a firm specializing in "a full range of trust services to U.S. and multinational families"—was the seller. The buyer, Fifth Avenue Property Holdings Limited, meanwhile lists a PO Box address in the British Virgin Islands associated, according to the ICIJ Offshore Leaks database, with a vast network of interrelated holding companies. (What intrigue!)
Chances are, the buyer is just another boring international, tax haven-loving tycoon of the kind increasingly active in Manhattan real estate, but even if the condop at 995 Fifth will be no more than a pied-à-terre, we certainly hope said tycoon does more justice to the Candela-designed property than its previous owners. To be sure, he's got a lot to work with.
Beneath those ugly rugs are hardwood floors bright and rich. And by all means, feel free not to replicate those terribly heavy curtains! Why obscure the view? Especially when it includes the Metropolitan Museum and Central Park. At 4,357 square-feet, the unit takes up half a floor at the old Stanhope Hotel building, offering stately living and dining rooms and only the "finest marbles and stones, woods and moldings."
This last is a source of no small relief—what with all those sub-par woods floating around Fifth Avenue these days.