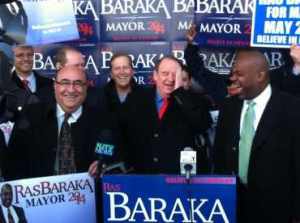 Richard J. Codey, state senator from the 27th District and the former governor of New Jersey, will swear Newark Mayor-elect Ras Baraka into office on July 1st.
Codey proved a fierce and loyal backer of Baraka's campaign for mayor, which resulted in Baraka's May 13th win over Shavar Jeffries.
Jeffries had the support of two of Codey's biggest antagnists: Essex County Executive Joe DiVincenzo and South Jersey uber-boss George Norcross III.
On the same day that Codey swears in Baraka, Gov. Chris Christie is scheduled to swear-in Paterson Mayor-elect Jose "Joey" Torres.
Torres had the support in his return mayoral bid of powerful Ocean County Republican Chairman George Gilmore.