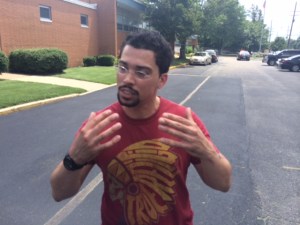 HADDON HEIGHTS – In his everyday life, Ricardo Rivera served his country in the U.S. Army and now serves his community as a surgical technician in a nearby Camden County hospital. But Rivera, 32, was compelled to come to Gov. Chris Christie's 122nd town hall meeting at Atlantic Avenue Elementary School in Haddon Heights on Wednesday for an elementary reason – to serve his 7-year-old daughter, who has had difficulty getting the medical marijuana she needs to fight the effects of the rare form of epilepsy she suffers from.
Fired up with frustration on his daughter Tatyana's behalf, Rivera stood up before more than 200 people in the school's packed gymnasium and called Christie out.
"Governor Christie, my daughter has been waiting for the [medical marijuana] program [to help her] for a year and a half. My daughter is withering away!" exclaimed Rivera, thrusting his finger at Christie moments before a cohort of state troopers and local police officers politely escorted Rivera out the gym door. "It's not right!"
Christie, silent, offered no comment.
In an interview with PolitickerNJ.com outside in the school parking lot, Rivera explained his problem with the state's medical marijuana law, also known as the New Jersey Compassionate Use Medical Marijuana Act, signed into law by former Jon Corzine in January 2010 and enacted under the Christie administration in October 2010, as well as with his experiences at town hall meetings.
"The problem is that my daughter has Lennox-Gastaut Syndrome (LGS), which is probably a severe form of epilepsy, probably the most catastrophic form of epilepsy that you can have. She been recorded as having more than 300 seizures over a 24-hour period. She's completely developmentally delayed. I had just gotten my card about two weeks ago to receive the medical marijuana for my daughter, but the restrictions have been crazy," Rivera said. "You have to be approved by three doctors. The first problem was getting three doctors. I mean, I couldn't even find one."
Rivera noted that he received assistance from the Face of Cannabis community project organization, a group that is seeking to raise awareness about what it believes are the benefits of the use of medical marijuana for children, to help finding enough doctors for approval.
"When she was approved, it look about another six months [visiting other doctors] and spending about $3000 in cash just to get everything done legally instead of out in the street," Rivera added. "Let me tell you something – if my daughter was to lose me, my daughter would end up dying. That's my fear. That's why I was here today, to tell [Governor Christie] that these regulations are absurd. He needs to improve the medical marijuana program. He absolutely does. It's crazy.
"I've been to seven [town hall] meetings. I've sat in the front, nicely dressed, looking totally legit," Rivera said before he left the scene. "[Governor Christie] just looks at me, then calls on someone else. Come on, seven times. I've been very patient. Today, I just told him how I felt."